We've been following the digital health industry investment trends closely over the past many quarters, particularly in the context of an emerging narrative that 2022 would be a more challenging year of consolidation and retrenchment for investors after the torrid pace that was set in 2020 and 2021. A pace higher than the previous ten years combined.
A challenging macro economic and business environment in 2022
We've identified multiple headwinds that have impacted investment trends and investor confidence in most market segments and industries across the world in 2022. These trends include the deteriorating financial markets caused by high inflation rates and the rising interest rates deployed by central bankers attempting to rein them in.
We're seeing signs that this higher interest rate environment is starting to be reflected in the real economy and most predictions are for a material slowdown in economic activity and probably a recession sometime in 2023-2024.
Adding to this the extended war in Ukraine, which has impacted food and energy markets, supply chains and thereby the economy overall, following on the labour, commodity and supply chain disruptions still in place in many parts of the world due to the COVID-19 pandemic and we can see how these factors have served to exacerbate what was already a difficult business macro environment.
What was the impact of this challenging environment on digital health investment in Q3 2022?
We are seeing a continuation in the slowing down of investment activity that began in the first quarter of 2022. Total investments in digital health in the third quarter of 2022 were $2.2B, it was the lowest quarterly funding total over the past 11 quarters and was 67% lower than the $6.7B raised a year ago in Q3 of 2021. It was also 48% lower than the $4.2B raised in Q2 of this year, further illustrating the slowdown in investment activity. Through Q3 2022 investments in digital health totaled $12.6B, 41% lower than the all time high $21.38B invested through Q3 in 2021.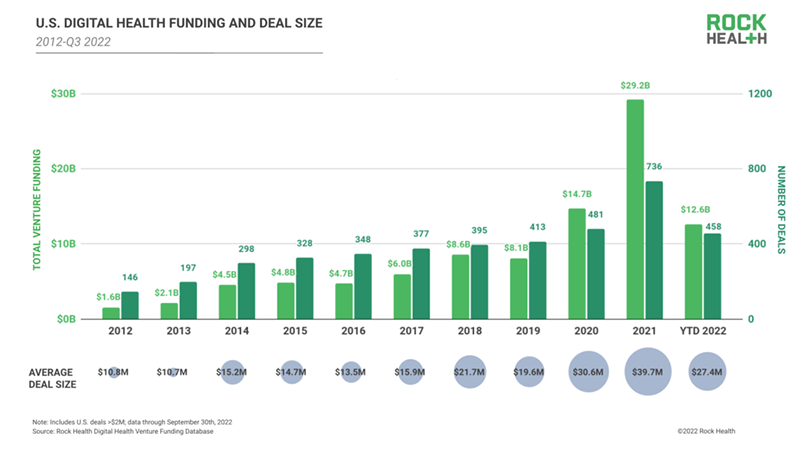 The data for this article is obtained from the team at Rock Health, a leading digital health advisory and capital investment firm, from their Q3 2022 digital health funding: The market isn't the same as it was.
These lower totals are not a complete surprise as we previously reported on the 31% decrease in investment activity that took place in the first half of 2022 compared to 2021 in our Digital Health Technology Industry Review & Roundup: First Half 2022. If there is an unexpected factor it is that the pace of investment slowed down faster than anticipated.
Again, this could be a reflection of the more challenging macro environment since digital health technology investors thrive in environments of active and positive financial markets that provide the opportunity for exits, which is clearly not the case at the moment. To further that point we can refer to the continuing deterioration in the value of digital health companies listed in public markets and their underperformance as compared to a general index such as the SP-500.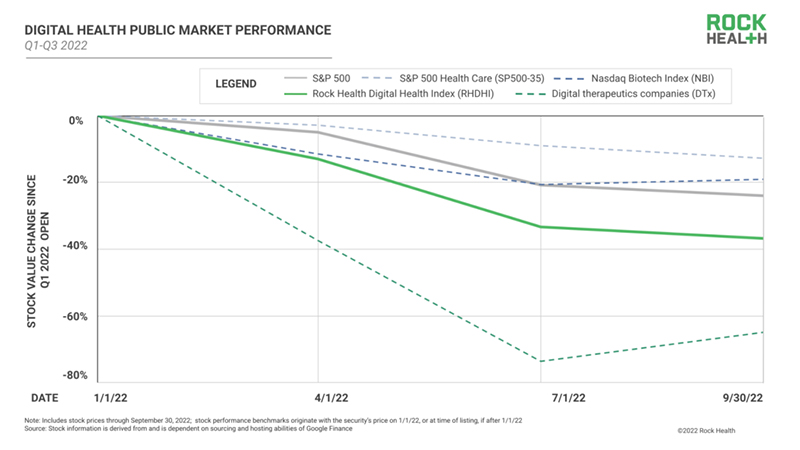 Another important insight into the numbers is that the $2.2B was raised across 125 deals, this is still a historically large number of deals, but they were of a smaller average size at $17.6M, than those of the past 10 quarters. Also the investments were made disproportionately in smaller, earlier stage companies, a market that is still considered relatively stable, and avoided larger late stage deals with only 6 raises – of the 125 total – being Series C or higher and only 2 raises of $100M or more. This dynamic seems to illustrate an environment where investors are remaining active but seeking ways to manage risk, conserve capital and position themselves for larger returns when the market makes those opportunities available once again in the future.
Lower Q3 2022 investment totals notwithstanding, 2022 is still on pace to be one of the top three investment years in the history of the digital health and medical technology industry. And if recent events such as the Akili Interactive SPAC exit that took place in August (Only the first of the year!) can be interpreted as an early sign of a nascent recovery, it is possible that the year closes out strong and surpasses 2020 to become the second highest of all time. Either way, by historical standards the digital health industry is still seeing massive amounts of investment flowing at levels higher than any it has seen prior to 2020.
In conclusion, we are seeing a continuation to the slowing down, consolidation and retrenchment phase that has been the primary narrative in the digital health industry for 2022, one that was foreseeable and that we addressed in our Six key trends impacting Digital Health in 2022 report published in January 2022. It is completely normal that after the mega boom cycle we experienced in the industry in 2020, 2021 that there would be some period of slowdown and consolidation, particularly within the context of a negative macro environment of the magnitude that we are facing.
We don't interpret these short term setbacks as a cause for major concern and remain extremely positive on the outlook for the digital health and medical technology industry and the thousands of companies that are building the future of healthcare. Yes times are difficult and they are forcing companies to focus on their operations and become more efficient, but this could also be an opportunity for them to increase their operational discipline and focus on the most important things. Overall we are confident in the tremendously positive industry fundamentals and look forward to much continued innovation and growth in the near future.

---
About BML Technology
BML Technology understands digital health. At the intersection of medical technology, clinical research and patient-centric healthcare BML drives the mainstream adoption of digital technology in healthcare. Offering a full range of services to the digital health ecosystem BML manages the complex stakeholder interactions necessary to get digital health solutions to market and gain adoption.
Stay Connected with BML Technology.
Connect with BML Technology on LinkedIn.