The global economic developments that took place in the first half of 2022 were tumultuous. Already reeling from supply chain dislocations, labour force disruptions and all the difficulties associated with the COVID-19 pandemic the global economy is now dealing with historically high levels of inflation across most developed markets. Adding to that the war in Ukraine which has exacerbated inflationary trends in global food and energy markets and we can say that at the macro level the first half of 2022 was difficult to say the least.
Within the context of this difficult global macro environment we are seeing a slowing down in the pace of activity taking place in the digital health field with regards to funding, new investments and other economic indicators. In the first half of 2022 a total of $10.3B was raised by digital health companies, a decrease of approximately 31% from the $15B raised in H1 2021. It should be noted that 2021 was the highest fundraising year in the history of the industry, and that 2020 and 2021 accounted for more investment than the previous 10 years combined. So although a 31% decrease seems large, it comes against the backdrop of an all-time high comparable.
The data for this article is obtained from the trusted team at Rock Health, a leading digital health advisory and capital investment firm, from their H1 2022 digital health funding report: Two sides to every correction.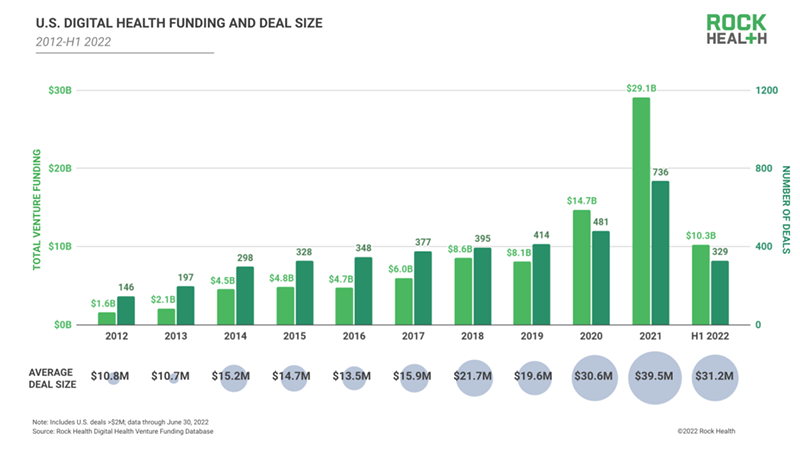 This does not come as a complete surprise to BML Health Blog readers since in our Q1 2022 Digital Health Industry Review and Roundup we began to identify the signs of a slowdown in these categories for many of the same reasons. Although in Q1 2022 funding was only down 10% versus Q1 2021 we could see strong headwinds and changes taking place in the environment and that the torrid 2021 pace would be difficult to match. This turned out to be the case as the slowdown became more entrenched in Q2 2022 with funding down 50% versus Q2 2021. It will be interesting to see if this trend persists for the rest of the year.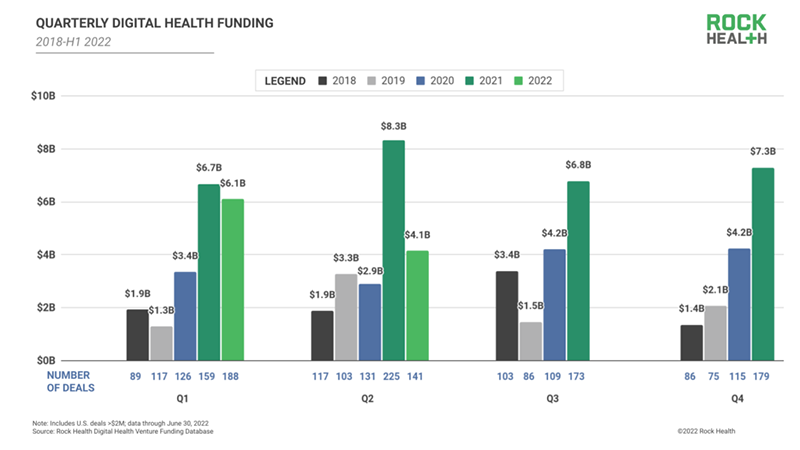 In fact it may have been the cooling down of financial markets beginning in Q4 2021 that proved the harbinger of these trends as it made it more difficult for investors to exit in public markets in the form of IPOs or SPACs. In the first half of 2022 there have been zero public exits thus far as no startups have managed to go public, a drastic change from 2021 when 23 digital health companies went public.
One positive to the H1 2022 narrative is that although economic activity is down versus 2021 it is still tracking higher than 2020, the second best year ever, and that the fundamentals of the industry are stronger than ever with venture investors, companies, talent and other stakeholders still very active operating companies and inventing the future of healthcare. It seems thus far that financial markets, inflation and war are not stopping the pace of innovation and development taking place in digital health, but are instead challenges to be dealt with in the external environment.
To provide additional insight to the top line numbers we also saw less deals completed of a smaller average size, with 329 deals of $31.2M on average, than in 2021, this is in line with investor expectations as they realized that the market environment had shifted and adapted their approach. The more difficult times also saw non specialist digital health investors leave the marketplace as veteran repeat investors made more than 70% of the investments in the space and they appear ready to stay the course and support their portfolio companies.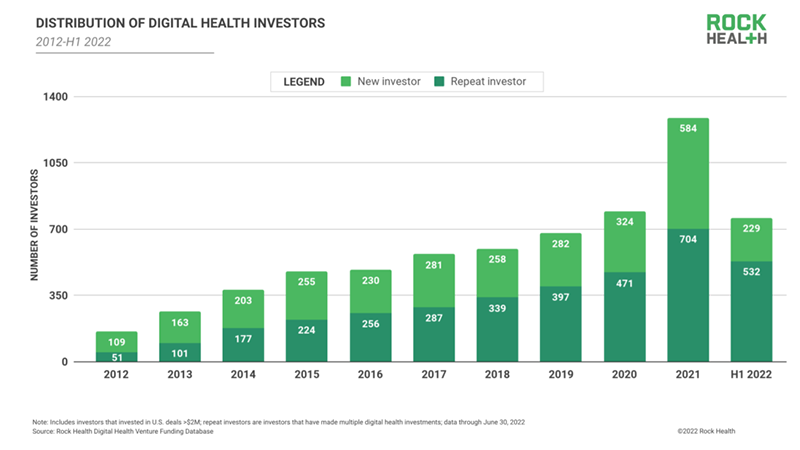 It is important to point out that these events are not completely unpredictable to industry participants and we in fact included two of them in our BML Technology Six key trends impacting Digital Health in 2022 report published on January 10th, 2022. Specifically we predicted stabilizing investment levels in early stage digital health companies and increased M&A activity and market consolidation, within the context of a cooling phase in the market after the frenzied pace of 2020, 2021. It is only normal that after a period of massive investment companies need time to digest these investments and put them to work, right size their labour force and calibrate their operations as activity returns to more normal levels.
It is clear now that the prevailing global macro trends that have affected most areas of economic activity have also had an impact on the digital health market. We expect these more challenging times and Q2 2022 dynamics to continue throughout the rest of the year. We are seeing that this more normal period is providing companies with the opportunity to focus on their operations. Regardless of the macro environment the fundamentals of the industry remain bright and the pace and growth of innovation is at all time highs.

---
About BML Technology
BML Technology understands digital health. At the intersection of medical technology, clinical research and patient-centric healthcare BML drives the mainstream adoption of digital technology in healthcare. Offering a full range of services to the digital health ecosystem BML manages the complex stakeholder interactions necessary to get digital health solutions to market and gain adoption.
Stay Connected with BML Technology.
Connect with BML Technology on LinkedIn.