It is no secret that 2022 was a challenging year in funding for the health tech industry, and for most industries, across global markets. After the massive runup in funding generated by the COVID induced pivot towards telehealth and the tremendous move up in financial markets it was a matter of time before markets had to adjust and take a breather, which they did in 2022. But that natural cyclical slowdown in funding was exacerbated significantly by the spike in inflation, rising interest rates and geopolitical events.
After the boom times of 2020 and 2021, 2022 was a lot less active to say the least. We documented this situation throughout the year in our quarterly health tech industry funding reviews as investment, although still up significantly by historical trends, was actually down – about 50% lower – compared to the funding bonanza that took place in 2021. To put it in context 2020 and 2021 accounted for more investment than the previous ten years combined.
The Canadian Health Tech Investment Environment in 2022
The funding situation was not that different in Canada where we experienced similar slowing trends. In this article we look into the Canadian Health Tech Funding Report & Market Map 2022 Year in Review Report created by Pender Ventures. Pender Ventures is a Vancouver based, Canadian focused health tech venture investor. Their focus is on B2B software and health tech startups at the inflection point between commercialization and scale. We find their research to be of high value and invite the reader to review it for themselves to gain further insight.
Highlights from the Canadian Health Tech Funding Report 2022 Year in Review.
(See the full report here).
$672M in funding was raised in Canada, across 168 deals with an average deal size of $4M. This is down 30% from 2021. This is a relatively strong performance when compared to the US decrease of 50%.
$190M in disclosed M&A transactions took place in 2022 across 20 deals. There was a 70% decrease in exits through either M&A or IPO in 2022. Telus Health and Well Health were the most active acquirers and were involved in half of all disclosed M&A deals.
Ontario led the pack with over half of all investments in Canada at $371M, followed by a rising Alberta at $110M (First top 3 result), and then BC and Quebec with $73M and $61M respectively.
Patient engagement & communication and care management were the two categories that saw the most growth in the last year.
Only 2 mega rounds of greater than $50M took place during the year, down 50%.
Pender is also predicting that the leading themes in health tech in 2023 will be analytics and big data, telemedicine and cross-continuum care, personalized medicine and patient centric-care, and staffing shortage across the board.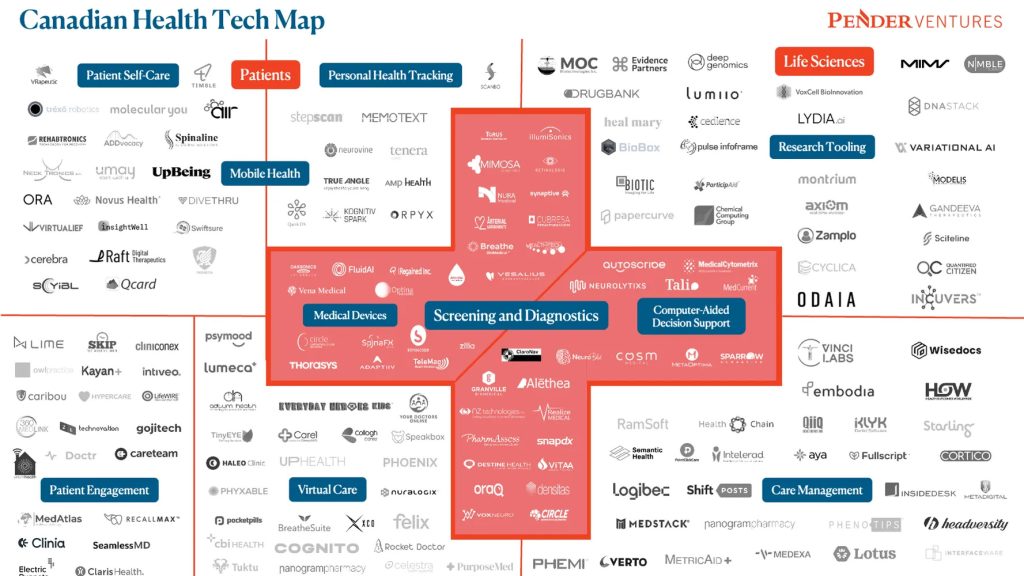 Although the financial markets, funding and investment into digital health took a pause in 2022, we at BML Technology remain very positive on the sector in all timeframes. As the industry continues to evolve we are starting to realize the potential of these transformative technologies to enhance the healthcare system and lead to better patient outcomes. Macro trends in population demographics, health care resource availability (Or the lack thereof particularly in Canada), and technological capability expansion all point towards the continued and ongoing digital transformation of the healthcare system.
The future continues to be bright for the health tech industry and we look forward to the many innovations to come that will lead to better health outcomes for patients and the system overall.
---
About Pender Ventures
Pender Ventures are tech investors with a passion for health care. They invest in B2B software and health tech startups at the inflection point between commercialization and scale and focus on Canadian companies but can invest across North America. As hands on investors, they seek to provide broad support for company building, from recruiting and business development to fundraising and product strategy.

---
About BML Technology
BML Technology understands digital health. At the intersection of medical technology, clinical research and patient-centric healthcare BML drives the mainstream adoption of digital technology in healthcare. Offering a full range of services to the digital health ecosystem BML manages the complex stakeholder interactions necessary to get digital health solutions to market and gain adoption.
Stay Connected with BML Technology.
Connect with BML Technology on LinkedIn.