The Montreal based, COVID-19 Digital Health Task Force held its most recent quarterly meeting on February 26th, 2021.​
The Mission of the Task Force is to help raise the level of COVID-19 related digital health projects in the ecosystem and to guide them with their resources, experience and community to ensure they can adequately meet a real clinical need in the future.​ It is comprised of industry, government and academic professionals primarily from within the Montreal health technology ecosystem.​
The purpose of the meeting was to discuss rapid testing and its potential impact from now until the end of the pandemic (and perhaps beyond) as well as how we may be able to help drive the initiative in Quebec. The tool has not been formally included in our national and provincial strategies for a number of reasons . The Task Force explored the pros and cons of rapid testing, as well as its suitability as a potential addition to our COVID-19 containment strategy, with experts who have been forefront in the management of the pandemic from the beginning.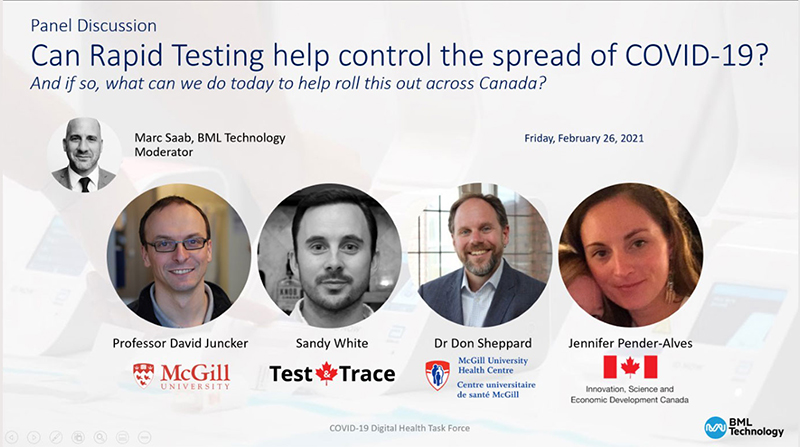 The meeting guests included Dr. Don Sheppard, Director of the MUHC's Mi4, Sandy White, Founder of Rapid Test and Trace Canada, Jennifer Pender-Alves, Life Sciences Manager at ISED Canada, on special assignment to the COVID-19 Made in Canada Team, and Prof. David Juncker, Chair of Biomedical Engineering at McGill University. The panel was moderated by BML Technology's Managing Director Marc Saab, and attended by Jean-Francois Houle, VP of the NRCs Pandemic Response Challenge Program and other esteemed guests. ​
Some of the questions they addressed included:
What are the pros and cons of rapid antigen testing and how do they compare to those of RT-PCR testing? The performance of rapid antigen testing has been a concern; how should we interpret this? Are there settings in which the use of rapid testing makes sense and could be beneficial in context of its limitations? What important factors should be considered in a possible deployment of technology like this, given the public health, financial and social challenges we continue to face?
The issue is complex. The discussion was lively and interesting.​
In the following clip Dr. Don Sheppard, Director of the McGill University Health Centre's Mi4, lays out the main differences between antigen-based rapid testing and RT-PCR testing.
Dr Sheppard's comments are further expanded upon and corroborated by Prof. David Juncker, Chair of Biomedical Engineering at McGill University.
Dr Sheppard then summed up the main issue with rapid test performance, how it should be interpreted and how we could use in properly in the right context.
Jennifer Pender-Alves of ISED Canada explains the role of the Health Canada's COVID-19 Testing and Screening Expert Advisory Panel, and comments on the latest developments, as well as some of the complex issues involved in widespread roll-out of tools like rapid testing and the critical need for context.
Sandy White, founder of Rapid Test and Trace Canada, a commercial venture based in Montreal and Vancouver, describes their 3-part mandate and their current work, including a large-scale pilot project in Banff, Alberta.
Jennifer Pender-Alves provides a strong concluding remark on the need for agile innovation and for learning from pilots and international successes. She also stressed the importance of continued collaboration between government and industry via channels like the Expert Advisory Panel as well as our COVID-19 Task Force.
The future remains uncertain
Since the beginning of the crisis, Health Canada has done a phenomenal job bringing safe and effective solutions to the forefront of the pandemic. More work is needed before rapid testing solutions can be plugged into the national framework of the pandemic response, but our panel agreed that there are important gaps that can be filled by a rapid testing solution, if used in the proper context and with the proper guidance.
As more data becomes available and new guidance is issued by Health Canada (e.g. the recent guidance on testing and screening strategies) and the FDA (e.g. the recent bulletin on screening tools and testing programs) we may begin to see rapid testing solutions introduced. The following is a good example of practical recommendations from the COVID-19 Testing and Screening Expert Advisory Panel:
Deploy rapid tests for screening:

1. Use rapid tests in selected groups to screen for infection

2. Test frequently and confirm positive results from screening with PCR tests as appropriate

3. Use screening with rapid tests to limit outbreaks in congregate and high-risk settings, such as long-term care

4. Consider operational requirements for rapid test deployment
But with vaccine rollout still struggling to gain momentum and the COVID-19 variants contributing to increasing cases, we are far from out of the woods. Even a gradual re-opening of society and the economy seems unlikely in the short term and uncertain at best for the rest of the year. It would be beneficial to see more consideration for rapid testing and how it may play a greater role in managing transmission in the immediate term.
Read more about how you can get involved with Rapid Test & Trace Canada
You can help Canada benefit from rapid testing: Sign the Petition
Help Spread the Word about Rapid Testing: Volunteer your services
Please stay tuned for more news on the next COVID-19 Digital Health Task Force activities. To contribute to the COVID-19 Task Force or find out how we can help, contact:
BML Technology COVID-19 Digital Health Task Force.
Stay Connected with BML Technology.
Connect with us on LinkedIn.