Consumer wearable devices and fitness trackers are popular general wellness devices consumers use to monitor their health metrics including distance traveled, heart rate, blood pressure and others. Some of these devices are licensed by Health Canada and cleared for use by the FDA as medical devices, and are slowly evolving into a more important component of the healthcare ecosystem.
There are calls for these devices to play a greater role in healthcare delivery by using them in remote patient monitoring applications, particularly for patients with heart conditions. Continuous heart rate monitoring could reduce the complications of cardiovascular disease through early detection of abnormalities in heart rhythm, and by delivering care to vulnerable communities. But in order for these devices to play a more prominent role in healthcare delivery it is imperative that they deliver accurate data.
Consumer wearable device measurements are less accurate for people with higher BMI and higher melanin levels
A new research study out of Florida International University testing three popular wearable devices (Apple Watch series 5, Fitbit Versa 2 and Polar M600) has concluded that the light sensors that they use to measure blood pressure experience significant decreases in accuracy due to melanin levels in the skin (Skin tone) and BMI (Body Mass Index). The study concludes that increased BMI and skin tone can induce a relative loss of signal of up to 61.2% in the Fitbit versa 2, 32% in Apple S5 and 32.9% in Polar M600.

Research Study:
Monte Carlo analysis of optical heart rate sensors in commercial wearables: the effect of skin tone and obesity on the photoplethysmography (PPG) signal
It seems the cause of the issue is that many wearables monitor heart rate using Photoplethysmography (PPG). PPG is a technique that detects blood volume change in living tissue by measuring the amount of light absorbed by blood in the microvascular bed. While normally highly susceptible to movement artifact, it does provide a low cost, non-invasive and generally accurate option, but as we can see from the latest research, some prior research and anecdotally (these critiques have been circulating for years) its accuracy is negatively impacted by skin tone and body weight.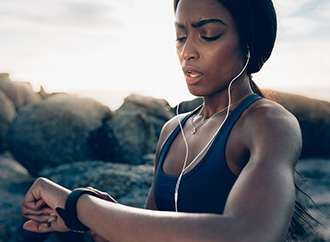 Of the two factors it seems that higher melanin levels (darker skin tones) have less impact on the accuracy of the readings, measuring in around 10%.
However higher BMI levels can cause variance in readings of as much as 60%. This happens primarily due to the thickness of the skin, blood flow and water levels that are different in the skin of higher BMI individuals, and lead to varying optical properties of the skin, which influences the signals measured by the wearable devices. Generally the higher the BMI, the lower the accuracy.
In 2018, 26.8% of Canadians 18 and older were classified as obese. The equivalent figure in the US was 42.4% in 2017 – 2018. These relatively high rates of obesity in two major markets for Fitbit, Apple Watch and other consumer wearables imply that a significant number of their customers are getting health data that is inaccurate. Not to mention the possibility that some users are both obese and darker skinned.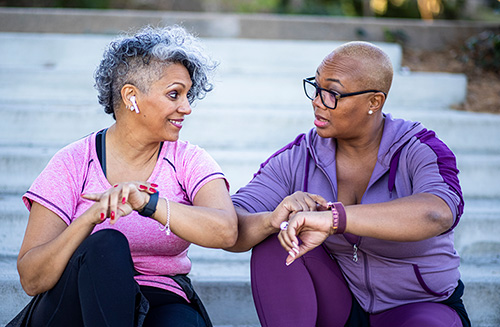 This study also implies that recommendations to use these PPG based devices to remotely monitor the health of people with cardiovascular issues may be premature since cardiovascular disease tends to be comorbid with obesity, often a significant contributor to the incidence of heart disease in the first place. In some cases, participants were both high BMI and high Melanin, thereby generating even more faulty data.
Consumer Wearables as Medical devices is one of the key trends impacting digital health
This is also an issue of concern for the digital health industry overall. We consider the ongoing evolution of fitness trackers into medical devices to be one of the leading trends impacting the digital health industry in 2022 and beyond – as stated in our 'Six key trends impacting Digital Health in 2022' report – and understand that this can only happen if the devices are as accurate as what a patient would find in a clinical setting. Consumers, doctors and the healthcare system have to be able to trust the data obtained from these devices if they are to play a serious role in the healthcare delivery process.
The issues with these light sensors also raise potential concerns about the accuracy of other Photoplethysmography (PPG), light, sensor, camera and software driven tools such as dermatology assistant and other skin based diagnosing tools. We've covered Google's Dermatology Assist Tool and believe that it can have a significant positive impact in the early identification of skin conditions, one of the key benefits touted is that the tool could help deliver care to underserved populations in the developing world, many of whom also happen to be darker skinned. Here again the issue of accuracy needs to be taken very seriously and tested for on sample populations of all skin tonalities.
We are firm believers in the potential of consumer wearables to positively impact consumer health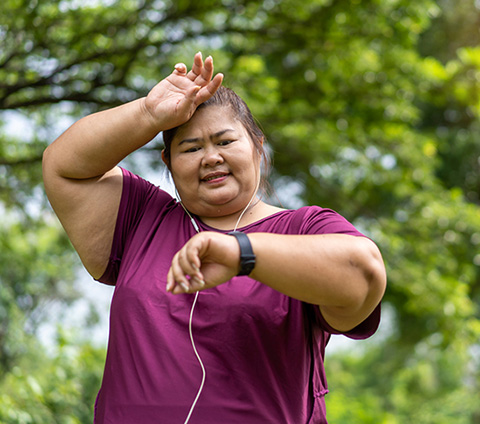 This article is not intended to dampen the enthusiasm for consumer wearables or their eventual integration into the healthcare ecosystem. In fact from the study we can take away that for those with healthy BMI or lower melanin levels the devices tend to make accurate measurements. This is a positive as that includes upwards of 60% of the Canadian population.
This study also illustrates the need for more research and clinical studies that are more broadly composed to ensure that all potential users are included in testing and that their issues are identified early. It should not be a research study of in-market devices that is identifying these issues.
The devices must be accurate to reach their potential within the healthcare ecosystem
The study also concluded that: "Based on these observations, we can postulate that a longer S-D separation in the PPG sensor, that enables an increased interrogation depth, better helps to capture blood volume change in case of obese skin". In other words, the accuracy issues with the PPG sensors may be corrected by shifting the spacing of the sensors specifically for obese or darker skinned people with a tuning process. Not an unreasonable expectation in a world in which several of the devices we use in our everyday lives already require some degree of personalization.
In conclusion we remain optimistic of the potential of responsibly-designed and validated wearables to have a significant positive impact in the health of their users. Wearables manufacturers need to be rigorous in their approach to testing and development to ensure that these devices can reach their potential and are not discarded as inadequate for serious clinical requirements due to issues such as those raised in this study.

---
About BML Technology
BML Technology understands digital health. At the intersection of medical technology, clinical research and patient-centric healthcare BML drives the mainstream adoption of digital technology in healthcare. Offering a full range of services to the digital health ecosystem BML manages the complex stakeholder interactions necessary to get digital health solutions to market and gain adoption.
Stay Connected with BML Technology.
Connect with BML Technology on LinkedIn.