At its recent I|O Developer conference Google announced the launch of a new Artificial Intelligence powered Dermatology Assistant Tool to help individuals find answers to questions relating to issues with their skin, hair and nails through a simple web based application. Consistent with the belief that AI has the potential to assist clinicians in caring for patients and treating disease, Google has launched this Tool partly to address the global shortage of dermatologists that is faced by the more than 2 billion people with dermatologic issues.
This Dermatology Assist Tool is a continuation of Google's penetration into the digital health and medical devices field. We've also seen a number of recent moves made by Apple and Amazon into this fast growing market. This is a topic we've covered on various occasions due to the impact it will have across the whole digital health ecosystem. The Google Dermatology Assist Tool has been CE marked as a Class I medical device in the EU and is not yet available in the US.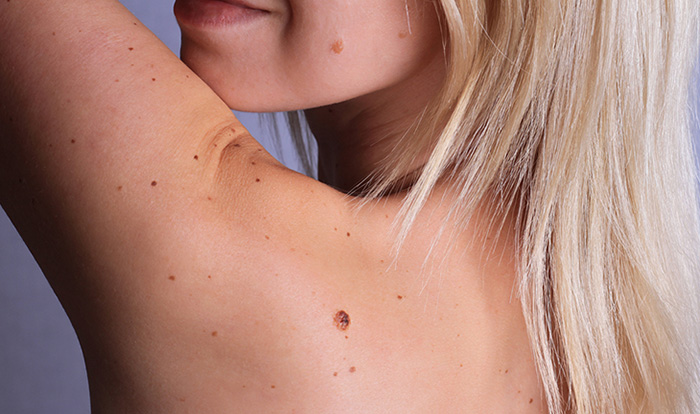 Due to its dominant position in Internet Search Google is already a de facto starting point for individuals seeking information on their skin health conditions, including research on symptoms and pictures, with almost ten billion Google Searches performed each year related to skin, nail and hair issues.
For Google to provide its own Dermatology Assist Tool is a natural extension to what is already taking place on its search engine where consumers dig through information and to some degree try to diagnose themselves.
VIew Original Announcement here.
How the AI Google Dermatology Assist Tool Works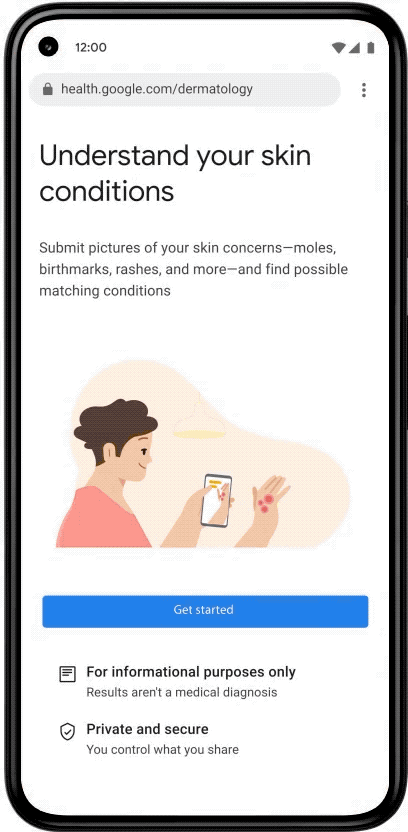 The web based application is easy to use. The user simply takes 3 well lit pictures of the area in question from different angles, these include hair, skin and nails. They also answer some questions about their skin type and the specific issue they're experiencing and submit their responses to the interface.
Google has stated that this Tool was developed in part due to consumer need since there are so many individuals researching skin conditions on its search engine but proportionately few dermatologists to see see them. From an AI perspective it is also an ideal condition to analyze since it's mostly external, visible and easy to photograph, unlike for example internal conditions such as heart symptoms, stomach pain or migraine headaches.
The AI model has expertise in more than 288 different skin conditions, which it uses to analyze the pictures and information submitted to then provide a list of possible matching conditions that individuals can research further.
These AI Assistant Tools should not be considered as replacements to doctors or human experts. On the contrary, the AI assistants should be regarded as exactly that, a high powered expert system with the ability to complement, or augment the expert's capability to treat disease and care for patients, thereby leading to better overall decisions and patient outcomes.
The Implications of Big Tech's further penetration into digital health
The penetration into the health sector by Big Tech as reflected by their strategic focus and investments has the potential to radically shift the competitive landscape due to their scale, resources and direct access to consumers.
This is specially true of Google and Apple, where millions of people walk around with smartphones running on their respective operating systems that with only the downloading of an app, or by extending the capabilities of the phone with attachable accessories, are getting closer to becoming wearable medical devices. Google's Dermatology Assist Tool provides an ideal illustration of this dynamic in that its users find the Tool while using Google's search engine to research the underlying condition.
The Google Fit App covered in our Blog that allows users to accurately measure their heart rate and respiratory rate in seconds using only the phone's camera and machine learning algorithms is another example of how Google could introduce products to its user base. In this case people researching fitness, heart rate or interacting with health related apps could be presented with the Google Fit App. All Big Tech players can execute some version of this strategy.
Given time we can see the financial and innovative capacity of the Tech giants launching a plethora of pharmacy, health and digital health related product and service offerings that could mirror what they have accomplished in their respective primary markets.
Existing leaders in digital health and smaller emerging players with consumer facing solutions should seek to better understand this competitive dynamic, particularly in the areas of consumer reach, access and acquisition, and construct strategies that seek to leverage the various Big Tech platforms.
We will continue to cover this important market trend on this Blog due to its impact to our medtech clients and the digital health ecosystem overall.
---
About BML Technology
BML Technology understands digital health. At the intersection of medical technology, clinical research and patient-centric healthcare BML drives the mainstream adoption of digital technology in healthcare. Offering a full range of services to the digital health ecosystem BML manages the complex stakeholder interactions necessary to get digital health solutions to market and gain adoption.
Stay Connected with BML Technology.
Connect with BML Technology on LinkedIn.