The healthcare field is experiencing a once in a lifetime revolution due to the emergence of digital health technology and everything that it makes possible across all of its processes. The benefits of emerging technology have allowed a wide array of unmet clinical needs to be addressed in new ways, and the medical field has never been more ready to adopt new tools.
The field of virtual health care – we include telehealth and telemedicine within the umbrella of virtual health care – where technology is used to improve the communication and information flow between patients, caregivers and healthcare teams had experienced rapid growth in adoption and usage rates in recent years, and that was even before the COVID-19 pandemic. With the COVID-19 pandemic, the field entered into a hyper-growth period.
What is Remote Patient Monitoring?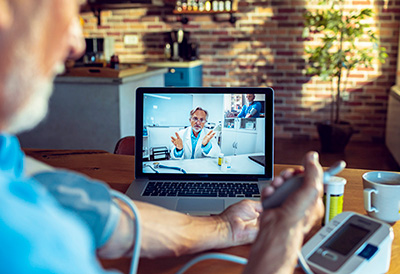 Remote Patient Monitoring (RPM) is one of the fastest growing segments of the telehealth industry. Remote Patient Monitoring uses digital technology to monitor and capture medical and other health metrics from the patient at their location. Some of the health metrics that are presently being monitored remotely include: Heart Rate, Blood Pressure, Blood Sugar, Blood Oxygen Levels and others. The information is then electronically transmitted to healthcare providers for assessment and analysis, as well as recommendations and instructions when necessary.
The global remote patient monitoring market was valued at $30.5 billion in 2021 and is expected to reach $62 billion, growing at a CAGR of 12.5% during the forecast period (1).
Trends driving the adoption of Remote Patient Monitoring
The rapidly increasing adoption of Remote Patient Monitoring has been driven by a number of trends that coalesced to create an environment conducive to the mainstream adoption of telehealth, telemedicine and Remote Patient Monitoring. Below are some of the principal factors and primary trends driving this uptake. We should acknowledge that once the COVID-19 pandemic imposed itself that factor was so significant to the adoption of RPM that it far surpassed the others in importance.
Technological Capability
The improvements in the technological capabilities of all the components involved in the development of digital health solutions is a significant driver of this trend. Improvements in microprocessors, miniaturization, sensors, artificial intelligence and machine learning algorithms, reliable communication at high speed and even the mass adoption of consumer communication devices – Mobile Phones, Watches, Trackers, Wearables – that are now also being used as medical devices, have all played an important role in making Remote Patient Monitoring possible.
Drive to Lower Costs and Increase Efficiency in Healthcare
Population and disease trends have led to significant increases in the cost of delivering healthcare services. Overburdened healthcare facilities and workers are seeking ways to lower the number of interactions taking place in high cost clinical settings, while at the same time still delivering high quality care and positive patient outcomes. It is a difficult challenge. Telehealth, telemedicine and Remote Patient Monitoring are considered critical strategic components in the drive to lower costs and increase efficiency because they allow for more patients to be seen, to do so remotely, and to do it on a continuous basis.
Aging Population and Chronic Disease
The population is aging rapidly and is also demonstrating increasing rates of obesity, these factors are leading to higher rates of chronic disease including diseases of the heart and circulatory system (Atherosclerosis, high blood pressure, coronary heart disease and stroke), diabetes, cancer and other diseases. These conditions have created a need for more constant and responsive care. The ability of the healthcare system to monitor health indicators for these conditions accurately, frequently and from a distance to hopefully prevent the condition from worsening is a supporting trend driving the adoption of RPM.
Impact of the COVID-19 pandemic on the uptake in Remote Patient Monitoring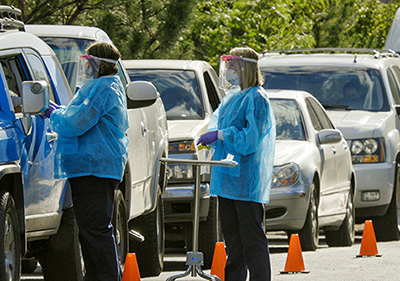 According to a recent study by McKinsey, the COVID-19 pandemic had a massive accelerator effect on the adoption rates for telehealth and some types of remote patient monitoring, increasing its usage rate by 38X compared to pre-pandemic levels (2). This makes sense since high risk patients were prevented from visiting hospitals and yet still needed care and monitoring. Hospital systems were overburdened, understaffed and needed to find new ways to deliver services.
Remote Patient Monitoring was an ideal solution to these challenges by allowing an overburdened healthcare system to monitor patients and deliver health services to them safely and from a distance in a timely and cost effective manner.
The expectation is that the usage rate for RPM will never return back to what it was prior to the pandemic. Too many changes in the healthcare delivery process have taken place and more importantly patients seem to be generally satisfied with it (2). Some industry experts express the notion that the pandemic may have condensed a decade's worth of growth and RPM industry development into a two year period.
Types of Remote Patient Monitoring
The most popular health metrics being monitored remotely by healthcare professionals today are listed below. However the list is not complete since there are many specialized remote monitoring devices and technologies available to keep track of specific health indicators such as fertility indicators, mental health indicators, sleep patterns, medication adherence monitoring and more.
Blood Pressure
Heart Rate
Blood Sugar
Blood Oxygen
ECG + Stethoscope
Body Weight
Body Temperature
Activity Tracking
Five key benefits of Remote Patient Monitoring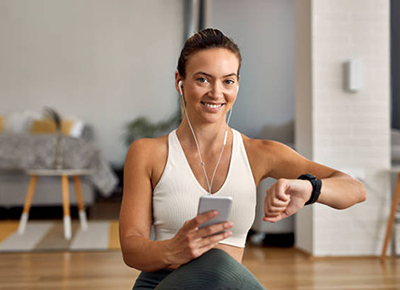 There is a strong match between the emerging healthcare needs being dictated by health trends in the population and the purported benefits of Remote Patient Monitoring for the healthcare system and patients. Remote Patient Monitoring is seen as one way to address the health challenges created by an aging population, the rise in chronic diseases and the drive to manage the escalating cost of delivering healthcare services. Some of the key benefits of Telehealth and Remote Patient Monitoring briefly described include:
Healthcare Anywhere
As the name implies the patient is monitored remotely, usually through a wearable, tracker or smartphone so the patient's health metrics are being monitored wherever they are located on a continuous basis. No need to travel to a hospital for the occasional test.

Improved Health Outcomes
The ability to track patient health metrics continuously and to provide action indications when necessary is leading to improved patient outcomes by helping patients to keep appointments, take their medicine, avoid potentially dangerous clinical settings (COVID-19), take specific actions with regards to their chronic conditions and much more.

Reduced System Costs
The ability to treat more patients without having to physically see them in a high cost clinical setting reduces costs to the healthcare system. The lower cost of delivering these services has also made it possible to combine telehealth offerings with Remote Patient Monitoring to provide patient access to healthcare services in remote rural areas and areas lacking specialists.

High Patient Satisfaction Rates
Although most Remote Patient Monitoring programs are still relatively early in their integration across the healthcare system, and some of them are truly novel having been deployed during the COVID-19 pandemic, early feedback indicates that patients are generally satisfied with this method of healthcare delivery primarily because it reduces hospital visits, hospital admissions and visits to the emergency room (3).

Detailed information on personalized health
The detailed health metrics captured by Remote Patient Monitoring devices provide caregivers with valuable information that enable informed data-driven decisions concerning care and also to provide immediate feedback when necessary in dealing with chronic conditions. The detailed health metrics have also been shown to increase patient engagement in their treatment and take greater ownership over their own health.
Potential Risks and Issues for Consideration in Remote Patient Monitoring
The promise of Remote Patient Monitoring and its ability to revolutionize healthcare is significant. The ability to track and monitor patient health metrics on an ongoing basis and provide guidance as required in real time is a paradigm shift in healthcare that cannot be underestimated. And yet we must temper our enthusiasm and remain clear-sighted as to its true potential and how the technology is integrated into the existing clinical framework.
The full scale integration and widespread adoption of RPM can only happen when safe and efficacious solutions have been responsibly developed and clinically validated. It has to be designed properly, deployed and integrated into the existing clinical frameworks properly, regulated properly and the patient has to be able to use the technology easily and accurately so there are no errors in the data being generated. Erroneous data due to patient mistakes negatively affects the process and can be dangerous.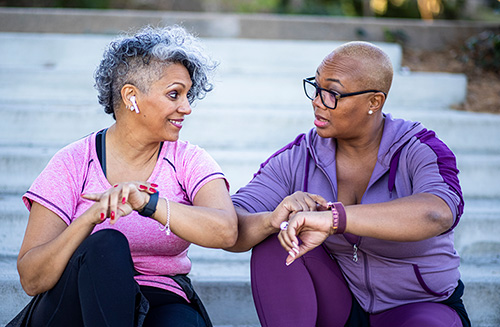 When connected medical devices are introduced into the hands of the patients, serious issues arise around interoperability, usability, data integrity, cybersecurity, and data privacy. A significant challenge in RPM is to find ways to successfully address these issues so that real-world medical applications based on this new technology can be integrated into existing clinical frameworks and used reliably.
We can also foresee challenges in how the healthcare ecosystem will manage the use of the data, as well as the data itself, being generated by these devices. How best can your doctor integrate the data into the clinical workflow and what are the best uses for it? Who will analyze it? Who will pay for that? How much? Where will it be stored? How will it be kept secure? What are the possibilities for improvements in patient outcomes in a world where a patient goes from one blood pressure reading per year at a doctor's office to continuous, accurate 24/7/365 blood pressure monitoring? And so many other questions.
Clearly there are still many issues to consider in the scaling out of Remote Patient Monitoring solutions in the healthcare system.
Five examples of successful Remote Patient Monitoring devices in the marketplace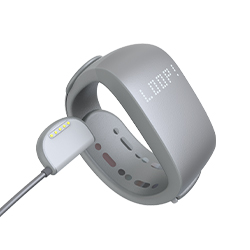 1. Spry Health Loop Signal Monitoring System
The Loop Signal is a clinician-led FDA-cleared monitoring service launched during the COVID-19 pandemic to assist in the monitoring of patient health at home. Worn on the wrist the Loop System remotely tracks heart rate, pulse-oximetry (SpO2), and respiratory rate, ensuring that care teams can monitor the vitals deemed critical to assess COVID-19 severity.
Spry Health was acquired by Itamar Medical in January 2021 to bolster their capabilities in the remote patient monitoring (RPM) of sleep apnea and other conditions.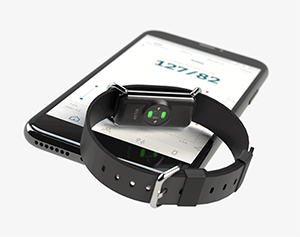 2. Aktiia Cufless Blood Pressure Monitor
Aktiia's clinically validated optical blood pressure monitor represents a true paradigm shift in the ability to monitor blood pressure on a continuous basis. The promise of continuous and accurate blood pressure monitoring has the potential to revolutionize heart health.
Read our review of the Aktiia Cufless Blood Pressure Monitor here.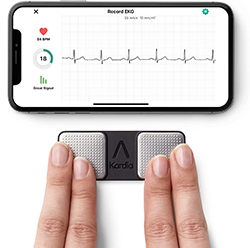 3. AliveCor KardiaMobile EKG Monitor
KardiaMobile is a smart device that can record a medical-grade electrocardiogram (EKG) right on your smartphone. In just 30 seconds individuals can detect Atrial Fibrillation, Bradycardia, Tachycardia or Normal heart rhythm.
It was created by cardiologists and fits right in your pocket. Simply place your fingers on the sensors for a medical grade EKG.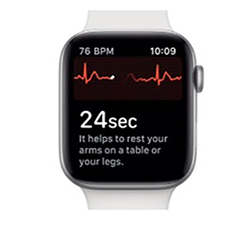 4. Apple Watch FDA cleared EKG function
Apple, the world's foremost makers of consumer mobile communications devices have also stepped into the market for consumer wearable medical devices with their FDA approved EKG algorithm for the Apple Watch.
Expect to see more in this area not only from Apple but also from other Big Tech behemoths Amazon, Google and Microsoft.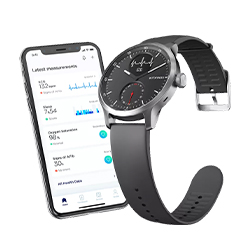 5. Withings Smart Health Devices
With more than 10 years experience in the field, Withings invents, designs, and manufactures a range of award-winning, clinically validated smart health devices and associated apps.
Some of the connected smart devices in their product portfolio include: Watches with ECG, Heart Rate & Oximeter monitoring, Scales with Weight, Heart Rate and Body Composition monitoring, a Smart Blood Pressure Monitor (BPM), a Sleep Tracker and a Smart Thermometer. These connected devices can shed new light on your health and help you to sustainably improve it.
The future of Remote Patient Monitoring
The combination of supporting industry trends and the benefits it generates, in addition to its strong performance in its 'trial by fire' fast deployment period during the COVID-19 pandemic, bode well for the future of Remote Patient Monitoring. We can expect that it will continue to grow at a fast rate for years to come. We should also expect greater integration of RPM into the clinical workflow with more health conditions and metrics being monitored by more devices and increasing functionality from existing devices.
Due to our position assisting emerging digital health startups and entrepreneurs in all areas of this field we will continue to follow and report on these developments with interest.

References:
(1) www.insiderintelligence.com/insights/remote-patient-monitoring-industry-explained/
(2) www.mckinsey.com/industries/healthcare-systems-and-services/our-insights/telehealth-a-quarter-trillion-dollar-post-covid-19-reality
(3) klasresearch.com/report/remote-patient-monitoring-2018-high-potential-in-a-shifting-landscape/1273
---
About BML Technology
BML Technology understands digital health. At the intersection of medical technology, clinical research and patient-centric healthcare BML drives the mainstream adoption of digital technology in healthcare. Offering a full range of services to the digital health ecosystem BML manages the complex stakeholder interactions necessary to get digital health solutions to market and gain adoption.
Stay Connected with BML Technology.
Connect with BML Technology on LinkedIn.