The world renowned Mayo Clinic has announced the second cohort of 7 digital health artificial intelligence focused startups into its MAYO CLINIC PLATFORM_ACCELERATE Program. The program is designed to help digital health startups develop and validate their artificial intelligence-driven health care solutions and advance their business plans.
The Mayo Clinic
The Mayo Clinic is one of the leading healthcare institutions in the world. Consistently at the cutting edge of healthcare science and patient care it was ranked as the best hospital in the U.S. for 2022-2023 by U.S. News & World Report, and is top-ranked for quality more often than any other health care organization in the U.S.. The Clinic operates as a nonprofit organization committed to clinical practice, education and research, and providing expert, whole-person care to everyone who needs healing.
Encompassing a network of 4 major campuses, the Mayo Clinic Health System with dozens of locations across the U.S. and the Mayo Clinic's International Patient Offices, the Mayo Clinic's 73,000 person workforce delivers care to more than 1.4 million people each year with serious or complex illnesses from all 50 U.S. states and 140 countries.
The Mayo Clinic launches the Mayo Clinic Platform to transform the future of healthcare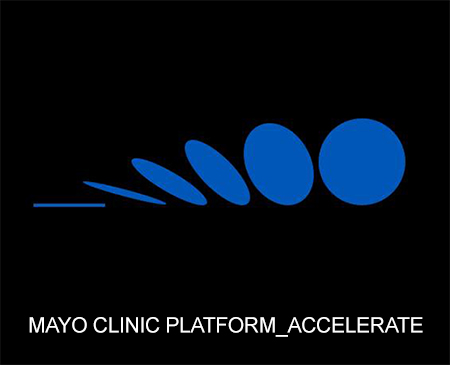 As part of its vision of helping to create a healthier world where personalized, predictive and innovative care is accessible to all, the Mayo Clinic has launched its Mayo Clinic Platform initiative. One of the key elements of this initiative is the MAYO CLINIC PLATFORM_ACCELERATE Program, a 20-week intensive program that helps early-stage health tech AI startups get market-ready.
"Health tech startups are critical contributors to the cycle of innovation," said John Halamka, M.D., president of Mayo Clinic Platform. "We are excited to collaborate with these innovators to solve some of the most complex problems in medicine today."
The MAYO CLINIC PLATFORM_ACCELERATE Program and second cohort
Predicated on the idea that the Mayo Clinic Platform believes that medical technology startups are the key to sparking life-changing innovations, the MAYO CLINIC PLATFORM_ACCELERATE Program offers digital health startups a disciplined focus on model evaluation and clinical readiness that is designed to help them establish greater credibility and obtain a powerful advantage in the marketplace.
As part of the Program each company receives a $200,000-benefit package that includes:
Access to deidentified patient data in a secure environment.
AI model validation with guidance from data science experts.
Ability to check for fairness and bias in AI models.
Exploratory collaboration discussions with clinical experts.
Guidance to understand Food and Drug Administration clearance pathways.
Support to plan clinical validation studies, such as clinical simulation or clinical research trials.
Mayo Clinic Platform also takes an equity position in the startup based on their most recent valuation or a convertible note or SAFE.
We can see the launch of the Mayo Clinic Platform and its ACCELERATE Program as a clear indication of what the Mayo Clinic believes will be the future of healthcare, and how they are taking an active role to make that vision a reality. Strategically the value proposition for early stage artificial intelligence companies of the benefits to be had from collaborating with an organization with the credibility and reputation of the Mayo Clinic is attractive.
If the ACCELERATE Program lives up to its promise we can see how leading independent healthcare institutions could play a more important role earlier in the development of digital health innovation than is presently the case, in more of a partnership role, and through the small equity stake they can also benefit financially from the value they help to originate. It looks like a Win-Win situation for all stakeholders involved and we will follow these developments closely.
The 7 artificial intelligence-driven medical technology startups in the second cohort of the program are:
AESOP Technology:
Using machine learning on 3.2 billion patient visits, AESOP aims to make physician data entry easier, faster and less error-prone by automating diagnosis input and improving medication-related workflows. AESOP has offices in California, Colorado and Taiwan.

Biotia:
By fighting infectious diseases with AI and genomics, Biota is leveraging new DNA sequencing technology to enable personalized, data-driven discovery of microorganisms that cause illness. The company is based in New York City.

Delfina:
Tackling the maternal health crisis, Delfina's software is monitoring health data to assess pregnancy risks, coordinate with providers and deliver a personalized care plan to improve pregnancy outcomes. Delfina has offices in San Francisco, New York City and Rochester, Minnesota.

Dynocardia:
Using wearable technology for accurate real-world continuous blood pressure and other advanced heart function measures, Dynocardia is leveraging AI to enable early detection before serious health events. The company is based in Cambridge, Massachusetts.

ImpriMed:
To personalize human and animal cancer treatment, ImpriMed aims to validate an oncology platform to provide patients and clinicians with the best predictive information for individual cancer patients. The company has offices in Palo Alto, California, and Seoul, South Korea.

Predicta Med:
To shorten the diagnostic journey and enable early and effective treatment, Predicta Med is creating an AI-based decision support platform for early detection of autoimmune diseases. The company is based in Tel Aviv, Israel.

SOAP Health:
SOAP (Subjective, Objective, Assessment, Plan) Health seeks to enhance physician productivity and insight to ensure accurate and timely prediagnosis — made before occurrence of symptoms — and diagnosis. The company is based in Boca Raton, Florida.
Lastly, the focus on artificial intelligence and AI startups is an interesting feature of the Program. From their vantage point at the front lines of all facets of healthcare delivery Mayo Clinic has deemed that artificial intelligence will be the key driver of innovation in the digital transformation of healthcare we are experiencing. And that this focus will be the best way to accomplish their mission of enabling new knowledge, new solutions and new technologies that improve patients' lives.
Check back regularly on our Blog as we follow up on the evolution of the MAYO CLINIC PLATFORM_ACCELERATE Program as well as the individual AI startups taking part in it to see the results this innovative collaboration will generate.

---
About BML Technology
BML Technology understands digital health. At the intersection of medical technology, clinical research and patient-centric healthcare BML drives the mainstream adoption of digital technology in healthcare. Offering a full range of services to the digital health ecosystem BML manages the complex stakeholder interactions necessary to get digital health solutions to market and gain adoption.
Stay Connected with BML Technology.
Connect with BML Technology on LinkedIn.