The MedTech Talent Accelerator is a national training program designed to launch the next generation of industry-ready talent for the Canadian Medical Technology sector. The program is a collaboration between Toronto Metropolitan University (Formerly known as Ryerson), McGill, Dalhousie, University of Calgary, BioMedical Zone, MedTech Canada (the National Association of the Canadian Medical Technology Industries), and its member companies.
One of MedTech Talent Accelerator's core mandates is to keep industry talent aware and up to date on the most important challenges facing the industry and to explore innovative solutions. The 'Explore Medtech' Series of Industry Panels, Seminars and Information Sessions is one of its key initiatives in support of this mandate.
As such we are excited that our own BML Health Founder and Managing Director Marc Saab, MEng. will be leading an Explore Medtech Series Seminar on October 18th addressing the critically important issue for digital health companies of "Health Technology: Clinical Workflow Integration and the Path to Adoption".
Many requirements imposed by Health Canada and the FDA must be met before a medical device can be marketed and sold in Canada and the US. Join the Explore Medtech Seminar on October 18th to gain insights as Marc shares some key considerations in clinical workflow integration and how they must be considered in the market adoption of new medical devices.
PRESENTATION UPDATE:
The full Video presentation of the Seminar is now available for viewing.
To do so please click here.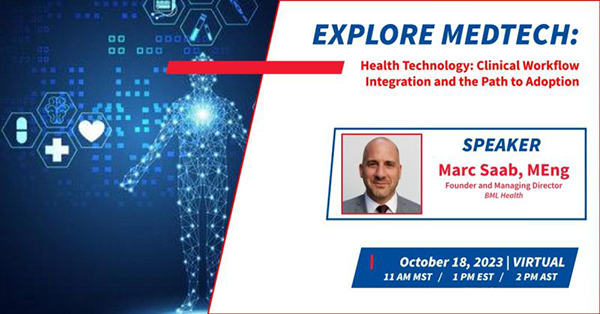 It is extremely important for digital health startups to understand the Clinical Workflow Integration process as it relates to their solution and that ignoring it, or "putting it off until later", can thwart a company's efforts before they can even get going. Firms need to understand how to manage their go to market risk as early as possible.
This seminar is open to ALL students and faculty.
As the Founder and Managing Director of BML Health, Marc is an expert in biometrics and a thought leader on Digital Health with more than 20 years' experience in Medical Device, Digital Health and Consumer Wearables. His expertise in all aspects of medical device and wearable product development from conception R&D to launch, clinical validation, and commercialization for international markets, including regulatory compliance and strategic business development makes him an invaluable resource for medtech companies facing challenges in any of these areas.
Reserve your spot today: https://forms.gle/GCVg5GBV8Vo6JarX6
---
About BML Health:
BML Health understands digital health. BML Health is a leading professional services firm specializing in digital health solutions consulting at the intersection of medical technology, clinical research and patient-centric healthcare. BML Health helps companies develop the digital health solutions of tomorrow. Offering a full range of services to the digital health ecosystem, BML drives the mainstream adoption of digital technology in healthcare. The firm's team of industry experts combines deep domain knowledge with innovative thinking to deliver transformative results for clients worldwide.
Stay Connected with BML Technology.
Connect with BML Technology on LinkedIn.
Connect with Medtech Talent Accelerator on LinkedIn.