Last week, Friday, June 10th at 9am EST, as part of the Digital Health Institute for Transformation (DHIT)'s Covid-19 Unites Us All webinar series, BML Managing Director Marc Saab appeared on a webinar panel to discuss Remote Cardiac Monitoring. The event was co-hosted by DHIT's Michael Levy and Adam Curry of the ASSIST Center, and featured Dr Bryon Boulton, Surgical Director of the WakeMed Structural Heart Program, and Dr James Dieffenderfer of North Carolina State University.
A summary of the discussion and a link to the recording can be found here: https://www.dhitglobal.org/s2e6-covid-unites-us-all-remote-cardiac-monitoring/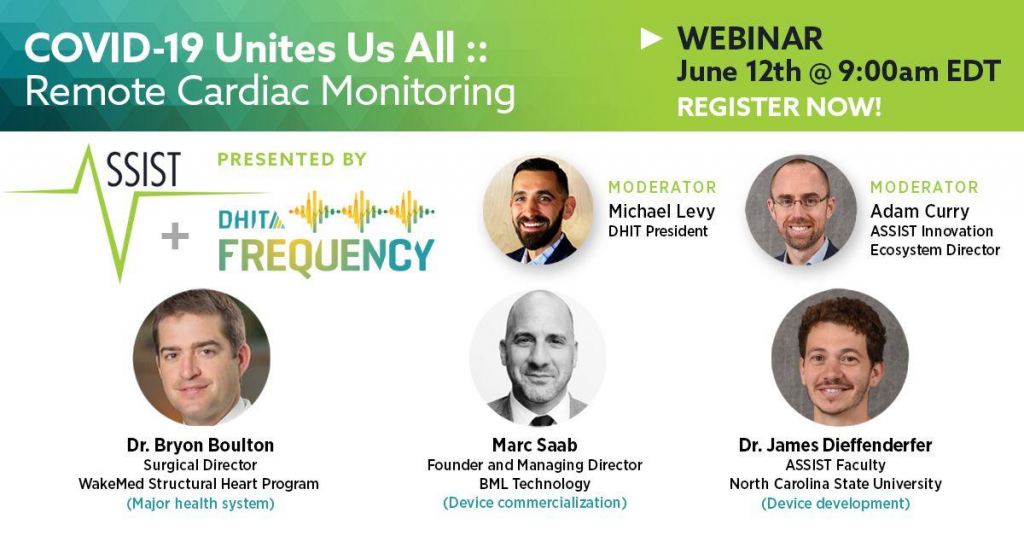 "The earlier we can see evidence of cardiac changes, the better we can deal with cardiac complications because that's the best opportunity to intervene and have an impact."

Dr Bryon Boulton, Surgical Director of the WakeMed Structural Heart Program
Marc had this to say about the event: "I very much enjoyed being part of this webinar on remote cardiac monitoring. Thanks again to DHIT and The ASSIST Center for hosting us. I found the topic and the level of discussion to be excellent and extremely relevant to the moment. The more information we can share about how solutions can be developed, in collaboration with clinical and technical partners, and with the support of our regulatory agencies, the faster and the better we will be able to develop solutions with immediate clinical impact."
Look for Marc and other BML staff and partners to continue driving the message of Digital Health development for COVID-19-related applications through our work on the BML COVID-19 Digital Health Task Force.
Stay Connected with BML Technology.
Connect with us on LinkedIn.