MEDTEQ+ is Quebec's consortium for research and innovation in medical technologies and one of the leading players in the Quebec, and Canadian, healthcare ecosystem. MEDTEQ+'s mission is to accelerate innovation and position products and services developed by the Canadian medical technologies industry through collaborative, industry-led projects.
The MEDTEQ+ offering for medical device and digital health companies has evolved from financing and networking to acceleration and coaching, as part of its AIM Acceleration Innovation Coaching Program.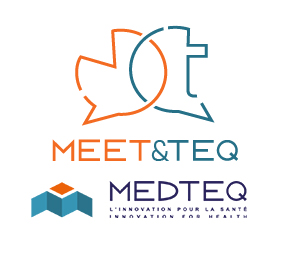 We want to thank MEDTEQ+ and Innovitech, experts in innovation consulting services that stimulate change in companies, for putting on another valuable MEET&TEQ event as part of the AIM Program and supported by the National Research Council of Canada and the PARI/IRAP.
It was excellent to see recent Centech Mtl standout Statera Medical Inc., developers of next generation orthopedic prostheses with engagement from top surgeons and a serious roadmap over the next 2 years. Their smart shoulder implant is groundbreaking in every way. Congratulations go out to Frédérik Plourde and Samuel Bourdon.
It was also good to meet new MEDTEQ+ members: RootQuotient, Clinia, MedHelper, PhysioBiometrics Inc. and nexialist. A thank you as well to Charles-Antoine Russell for hosting and animating the session.
Our own BML Technology Managing Director, Marc Saab, has been working with the AIM Program since its inception mentoring its innovative cohort companies on 'Best Practices in Medical Device Regulatory Strategy' to highlight the critical aspects of regulatory and compliance strategy for medical device and digital health startups.
We cannot emphasize enough how important it is for medtech startups to get their regulatory strategy in place correctly from the start.

Marc is passionate about helping aspiring medtech firms and contributing to the fast growing Montreal digital health technology ecosystem. The pace of innovation, dynamism and creativity are an inspiration to us.

---
About BML Technology
BML Technology understands digital health. At the intersection of medical technology, clinical research and patient-centric healthcare BML drives the mainstream adoption of digital technology in healthcare. Offering a full range of services to the digital health ecosystem BML manages the complex stakeholder interactions necessary to get digital health solutions to market and gain adoption.
Stay Connected with BML Technology.
Connect with BML Technology on LinkedIn.
Connect with MEDTEQ+ on LinkedIn.
Connect with Innovitech on LinkedIn.