Developments in the digital health technology industry continued in Q1 of 2021 at the same torrid pace established in 2020 across all areas, including development and launch of new medical technologies, private investments and mergers and acquisitions activity.
The persistent COVID-19 pandemic continues to be a catalyst for the rapid adoption of telemedicine initiatives and other digital health solutions for treatment of existing chronic conditions and patient care management. These increases in volume and demand for telehealth, along with the ubiquitous presence of smartphones and wearables portend to the continued growth of the industry and expansion of medical service delivery.
Investment and Public Exits in digital health reached an all time high in Q1, 2021
In the first quarter of 2021, 10 digital health startups either went public through an IPO or announced plans to go public through a Special Purpose Acquisition Company (SPAC) deal. Public exit announcements in digital health have already far exceeded the total from 2020. A SPAC is formed to raise money through an initial public offering to acquire another company, and offers some procedural advantages when compared to the traditional IPO process.
Rock Health has compiled the data, conducted the analysis and provides significant insights to make sense of what is happening in the digital health space.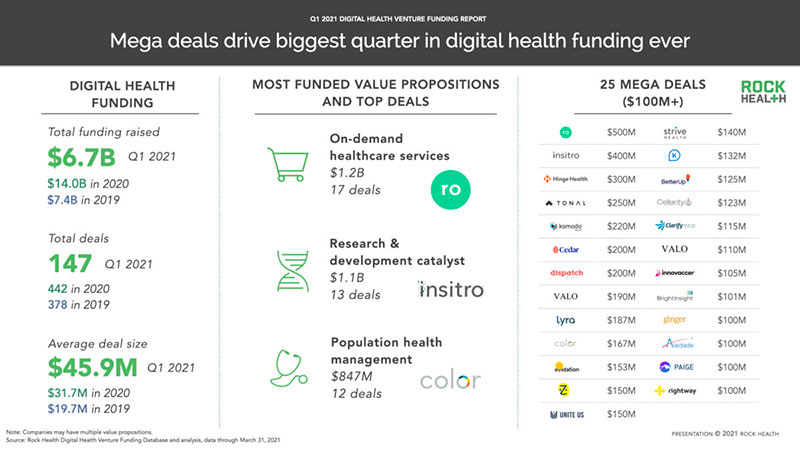 Montreal Digital Health Technology Ecosystem
Closer to home, Montreal's Dialogue, one of the leading telemedicine companies globally and the #1 provider in Canada, became a public company through an IPO on March 30th, 2021. Their offering started with a simple virtual care app that connected a Dialogue member to a nurse or a physician. Today, Dialogue is an Integrated Health Platform™ comprising several programs: primary care, mental health, employee assistance programs (EAP) and occupational health and safety (OHS).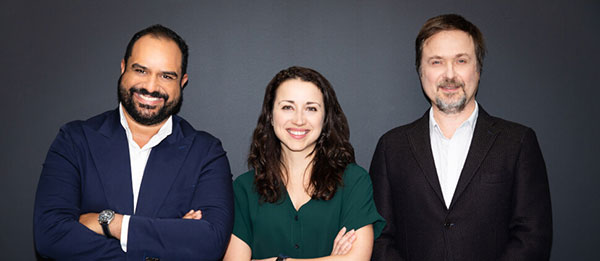 Interesting technology developments and strategic moves by majors
A continuation in the trend towards smartphones and other wearables transforming into devices for medical tracking, vital signs monitoring and health optimization has also strengthened.
An expansion in the level of investment and commitment in this space by Amazon, Apple, Google and Facebook has also taken place. The presence of the FAANG tech behemoths and their respective platforms may be a cause for concern for medtech startups and mid-market firms with fewer resources and less access to consumers, and requires continuous monitoring by market participants. Nonetheless, it strengthens the viability of solutions in the space as the need for significant infrastructure is a good sign.
Significant Mergers and Acquisitions activity at all levels in digital health
The economic activity extended beyond venture investing and the large number of public exits, and included a significant number of Mergers and Acquisitions at all sizes of industry participation, including:
At the present rate, the health technology industry trends that started in 2020 and have continued strongly in Q1 2021 show no signs of abating. Although questions remain as to whether this pace of private investment and public exits can and will be maintained, the underlying industry conditions and the fundamentals driving it are solidly in place and becoming more entrenched.
---
About BML Technology
BML Technology understands digital health. At the intersection of medical technology, clinical research and patient-centric healthcare BML drives the mainstream adoption of digital technology in healthcare. Offering a full range of services to the digital health ecosystem BML manages the complex stakeholder interactions necessary to get digital health solutions to market and gain adoption.
Stay Connected with BML Technology.
Connect with BML Technology on LinkedIn.