BML Health is excited to welcome Amy Kruse, PhD to Montreal to share her insights on US Fundraising Strategies for Canadian Digital Health Startups. Learn what it takes for Canadian digital health startups to deliver great pitches and stand out to US investors. By BML Health & Startup en Résidence.
Come and join us on Thursday, September 21st, 2023 at 5 to 7 PM to get a better understanding of what it takes for Canadian digital health startups to get funded and be well supported, from an industry leader, US based neuroscientist and investment strategist Amy Kruse, PhD, General Partner and CIO of Satori Neuro.
The endless challenge of fundraising a Digital Health startup is all too real. Canadian startups looking for US-backed investment face stiff competition from signifcant pools of companies and programs south of the border. Dr. Kruse will be discussing the aspects of pitches that US-based investors like to see, and general strategies to help overcome the challenges and get your startup funded and well supported by the right partners.
PRESENTATION UPDATE:
The Video presentation of this event is now available for viewing.
To do so please click here.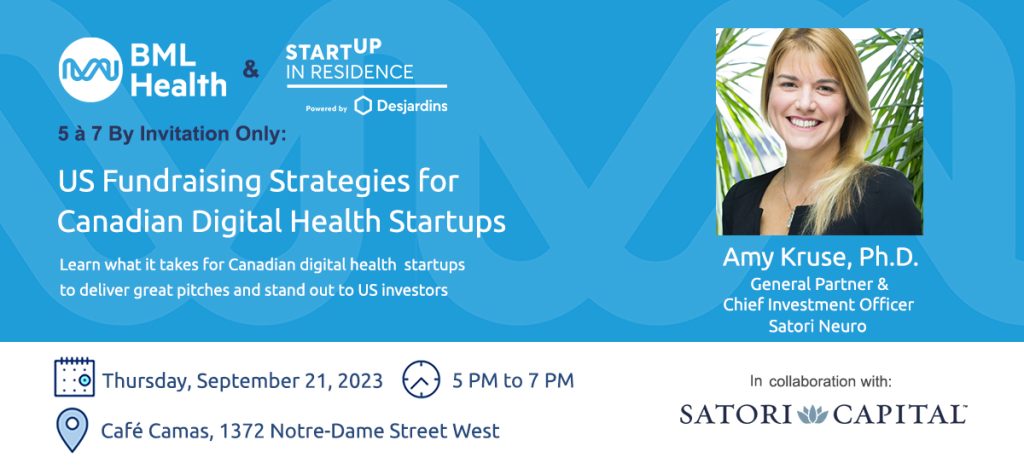 Cocktail and Presentations:
WHEN: Thursday, September 21st, 2023 at 5 to 7 PM
WHERE: Café Camas 1372 Notre-Dame St West, Montreal, Quebec H3C 1K8 (on the second floor)
By invitation Only
Dr. Amy Kruse is the chief investment officer of Satori Neuro, a stage-agnostic fund focused on mental health, neurotechnology, and human flourishing. Amy leverages her decades of experience as a neuroscientist, her prior roles as an operator and a government program manager, and her network of key relationships to discover transformational companies addressing the largest mental health, brain health, and wellness challenges and opportunities.
Prior to leading Satori Neuro, Amy was a General Partner at Prime Movers Lab, where she led the fund's life sciences investments in human augmentation and longevity. She serves on the boards of four Prime Movers Lab portfolio companies: Cognixion, Paradromics, Gilgamesh Pharmaceuticals, and Attune Neurosciences.
Amy is a Founding Member of the Loomis Innovation Council at the Stimson Center in Washington, D.C., and a Guest Lecturer for Singularity University. She is a frequent contributor to defense panels and advisory boards for organizations including DARPA, the National Academies, and the Defense Science Board. She is also the author of numerous scientific papers, chapters, and articles.
Amy earned a Bachelor of Science in Cell and Structural Biology and a PhD in Neuroscience from the University of Illinois Urbana-Champaign, where she was awarded a National Science Foundation Graduate Fellowship.
Satori Capital is a Texas-based multi-strategy investment firm founded upon the principles of conscious capitalism. A Satori investment encompasses more than just capital. Our experience, relationships, and guidance steer leadership teams toward long-term value for all stakeholders. We exist to create, fund, and inspire businesses that elevate humanity.
https://www.satoricapital.com/

Special thanks to:
Banque Desjardins, Eric Morin, Sarah Bezeau Gervais, Joséphine Fischmeister, Centech, CTS Santé, McGill Dobson Centre for Entrepreneurship, Sam and Lou of Café Camas, and Tara Alixia Lindsay.
---
View our comprehensive list of Montreal based digital health and medical technology angels, incubators, accelerators, venture capital investors and other financing resources for digital health startups.
---
About BML Health
BML Health understands digital health. At the intersection of medical technology, clinical research and patient-centric healthcare BML drives the mainstream adoption of digital technology in healthcare. Offering a full range of services to the digital health ecosystem BML manages the complex stakeholder interactions necessary to get digital health solutions to market and gain adoption.
Stay Connected with BML Technology.
Connect with BML Technology on LinkedIn.