Techstars is one of the leading global startup accelerators having invested in more than 3,300 early-stage startups. They support many of the world's best entrepreneurs with access to capital, mentoring, finding customers, hiring talent, choosing the right infrastructure, and much more.
Now with the Techstars Future of Longevity Accelerator, a program that is run in partnership with Pivotal Ventures, they are focusing on innovative solutions to address the unmet needs of older adults and their caregivers. Program themes include: Caregiver Support, Care Coordination, Aging in Place, Financial Wellness and Resilience, Preventive Health (both Physical and Cognitive), and Social Engagement.
We're excited that our Founder and Managing Director, Marc Saab, will be taking part as lead mentor to Techstars Future of Longevity Accelerator company REEV, along with Ting Shih, Sue Stash, Brian Mouille, and Joel Gibbard MBE.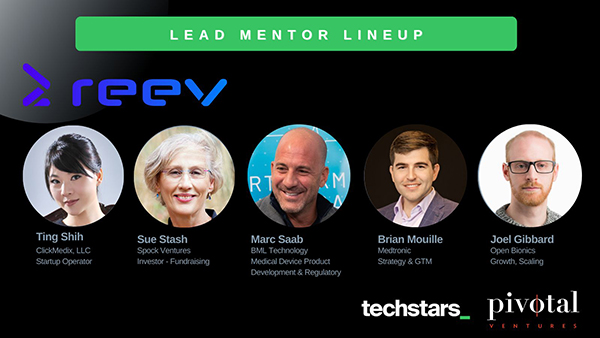 REEV's mission is to create the future of walking assistance and thereby help the millions of people affected by walking disorders overcome their daily disability by becoming more autonomous and independent in their movements. They seek to accomplish the mission by creating a lightweight, discreet and intelligent exoskeleton that would be able to overcome the limitations of current exoskeletons and reach as many people as possible.
Here are the other companies that make up the Techstars Future of Longevity Class of 2023:
Advosense
Advosense is developing intelligent incontinence solutions for elderly care to empower our clinicians to know when, where and how to best care for their patients' needs.
advosense.com
Cancer Mutual
Building towards a future where cancer is no longer a threat to your life or finances.
cancermutual.com
Carefluent
Carefluent is a technology platform that allows its users to receive culturally responsive, highly personalized in-home care.
mycarefluent.com
Keep Company
Keep Company is an HR tech platform that helps employers care for, and keep, the parents and caregivers on their team.
keep-company.com
Lotus Labs
Ring that moves unsmart objects at home by pointing.
lotuslabs.org
Penny Finance
We are the first personalized and tech-powered financial mentor for women who don't have access to a financial advisor – and crave easy, digestible financial education and know-how to increase cash flow today, and retire with wealth tomorrow.
penny-finance.com
SAVVLY
Savvly is an innovative financial solution that helps people maintain their quality of life – no matter how long the live.
savvly.com
Tuktu Care
Tuktu is a community-powered care network that uses technology to smartly match family members and friends looking to support their older loved ones (or themselves) to safe, friendly, inexpensive companions for non-medical needs like shopping, cleaning, cooking, or rides to appointments.
tuktu.ca
Zinnia TV
Dementia friendly videos to make care easier and more meaningful.
zinniatv.com
We wish all the participating companies the best of luck in the Techstars Future of Longevity Accelerator as they develop their innovative Age Tech and Longevity solutions, and look forward to the day when we see them at work in the marketplace delivering improved health outcomes to the population.

---
About BML Technology
BML Technology understands digital health. At the intersection of medical technology, clinical research and patient-centric healthcare BML drives the mainstream adoption of digital technology in healthcare. Offering a full range of services to the digital health ecosystem BML manages the complex stakeholder interactions necessary to get digital health solutions to market and gain adoption.
Stay Connected with BML Technology.
Connect with BML Technology on LinkedIn.