As providers of digital health advisory services that help medical technology companies manage the complex stakeholder interactions necessary to get their digital health solutions to market, we work backstage with some of the most exciting medtech companies in the world. In this edition of the BML Technology Digital Health Company Spotlight, we feature one of the leading firms in the Toronto digital health ecosystem and an emerging leader in its field: Swift Medical Inc..
Swift Medical is an innovative Toronto-based global leader that is revolutionizing the field of wound care management. Chronic wounds represent a hidden crisis in our healthcare system and Swift Medical, with its 'Swift Skin and Wound' wound care management solution, is helping clinical organizations, healthcare professionals and patients address the challenges that chronic wounds represent.
More recently with the introduction of their new Swift Ray 1 device Swift Medical has raised the bar on innovation in wound care management. It is the world's first all-in-one hyperspectral imaging device that captures beneath-the-skin clinical data that is normally invisible to the naked eye. It is also highly portable and fits right in your pocket.
Swift Medical is revolutionizing wound care management
Founded in 2015, the company's innovative solutions for advanced wound care visualization and touchless 3D measurement have been adopted by thousands of healthcare facilities worldwide and are treating upwards of 400,000 patients per month. Most importantly, Swift Medical's solutions have demonstrated tangible operational and clinical benefits, freeing nurses to spend 48% less time with administrative tasks while at the same time reducing the likelihood of pressure injuries by 88% and increasing overall wound healing rates by 300%.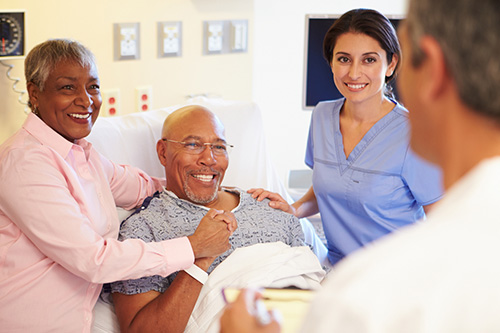 Swift Medical solutions are gaining traction in the marketplace and have been adopted by more than 4,000 healthcare organizations globally to help transform their wound care programs. The company has also obtained the confidence of the investment community having most recently raised a $35 Million USD Series B funding round (July 2021) to help expand on their market leading position.
The chronic wound problem Swift Medical is trying to solve
Chronic wounds represent one of the largest public health crises worldwide, with more than 8.2 million patients suffering from chronic wounds in North America alone. Surprisingly, there are currently more people living with a chronic wound than with breast cancer, colon cancer, lung cancer and leukemia combined. Unfortunately present health trends, including the fast growing rates of obesity and diabetes, indicate that the number of chronic wounds will continue to increase.
Swift Medical believes that chronic wounds are a special problem that constitutes a hidden crisis in our healthcare system that needs to be solved, and they have made it their organization's mission to accomplish that.
The challenge of chronic wounds is not well known or understood outside of the healthcare system. It is difficult to process that close to 50% of all patient interactions involve wounds that may never heal! That is an astonishing statistic, considering the problem is virtually unknown outside of clinical communities. It is also a significant drain on resources for health care organizations, and it places significant physical and mental burden on the patients experiencing these conditions.
The Swift Medical Solution: Swift Skin and Wound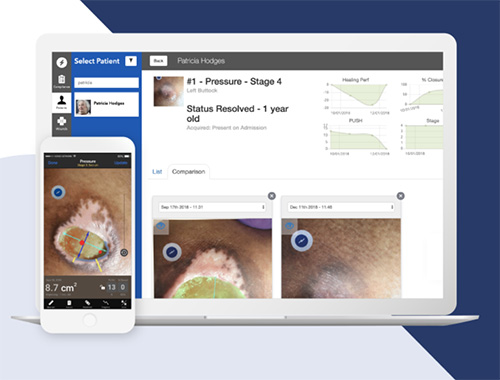 Swift Skin and Wound is the wound care management solution from Swift Medical. It is a complete end to end bedside to back office wound care management system that encompasses the entire process from wound point of care identification and management to patient and administration analysis for whole departments across the healthcare continuum.
It is intended to be used in hospitals, acute and sub-acute care settings, long term care, surgery, health
care practitioner facilities, outpatient, or any scenario where healthcare is provided by a qualified health
care professional, in organizations of all sizes managing from thirty beds to thirty thousand. As well as through Swift Scientific, where the system enables research grade clinical imaging on any smartphone to support decentralized trials.
The Swift Skin and Wound system has two major components. The Point of Care Swift App and the Swift Dashboards. Together these components allow caregivers to capture wound images, manage their wound care population in real time, improve the treatment and healing of wounds and grow their practice through the delivery of exceptional care.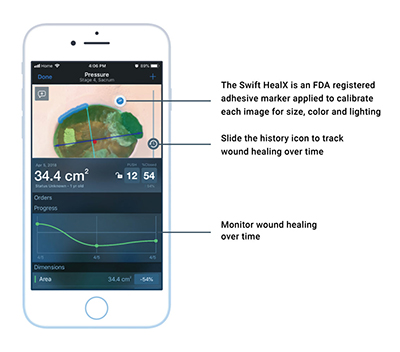 The Point of Care Swift App captures wound images with a simple photograph. It brings clinically calibrated wound imaging to your phone or tablet. It is non-invasive and represents a quantum leap in measurement accuracy compared to previous methods utilizing a handheld ruler. More importantly, it also tracks the circumference, type and progress of the wound using AI.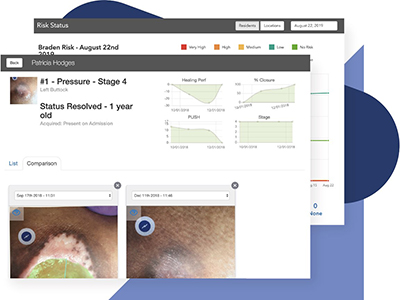 Swift Dashboards provide caregivers with all the information they need to keep track of every wound care patient in their department, including their complete wound history along with images, measurements, evaluations and treatments. The dashboards can also be used to view a full range of patient population statistics and trends for the whole department, such as the progress for each type of wound along with the corresponding wound evaluations and applied treatments.
Additional benefits of this type of real time patient wound monitoring and management is that caregivers can better monitor at-risk patients and monitor risk levels over time.
The Swift Skin and Wound wound care management system has earned its place as the preferred wound care management solution in the marketplace because it helps healthcare providers deliver consistent best practice care at every bedside and improves patient outcomes.
Introducing the Swift Ray 1 hyperspectral imaging device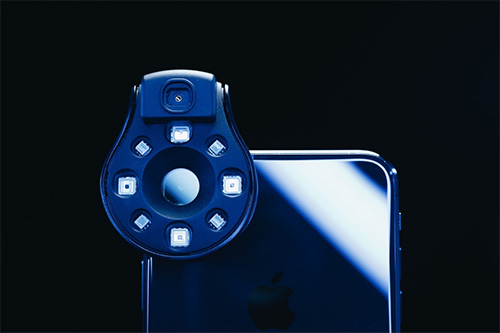 The Swift Ray 1 generates precise real time information about tissue health. By using Ray 1 as part of their existing clinical workflows, clinicians can better manage and prevent pressure injuries, deep tissue injuries, diabetic foot ulcers, and infection
The Swift Ray 1 is the world's first all-in-one hyperspectral imaging device, this means that it can capture clinical data that is beneath the skin and normally invisible to the naked eye. Because of its small size – it fits right in the palm of your hand – it makes powerful medical imaging accessible anywhere, from the hospital to the home. The Swift Ray 1 combines three advanced technical modules within a single device: Thermography, Bacterial Fluorescence and Oxygenation. These modules generate precise real time information about tissue health including oxygenation, bacterial presence, and temperature distribution.
Aside from its extreme portability, which truly makes wound care accessible anywhere a clinician can take a cell phone picture, the Swift Ray 1 has important additional benefits. It works in any type of lighting – no special lighting conditions are required. And it works on any type of skin tone – an important clinical benefit as many imaging based devices tend to be less accurate on darker skin tones.
The device works seamlessly with the Swift Skin and Wound solution to provide clinicians with insights into a patient's wound healing, informing clinical and operational decision-making.
Watch Swift Medical Co-Founder and CEO Carlo Perez introduce the Swift Ray 1 medical device.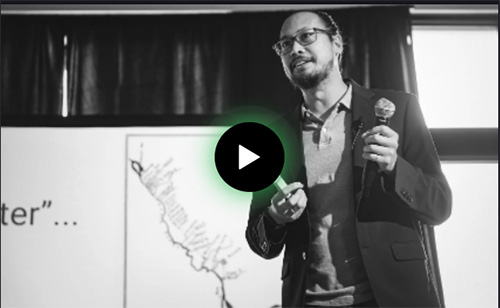 The Swift Medical leadership and team
Swift Medical is led by a diverse and highly experienced team with very strong technical capabilities. The company was co-founded by Carlo Perez, serving as CEO, Justin Allport Chief Engineer, Dr. Sheila Wang MD PhD, Chief Medical Officer and Edwin Liang Manager DevOps & Infrastructure. Other key executives include Anthony Lau Chief Operating Officer, Cerys Cook Chief People Officer, James Baskin Chief Commercial Officer, Lori Valentini Chief Financial Officer and Mike Brown Chief Technology Officer.

The co-founders and leadership team embody the company's culture and commitment to their values which are: Impact through Empathy, In Metrics We Trust, Pride & Perspective and We choose to do (there is no try).
In practice this commitment to the mission of revolutionizing wound care management, when combined with the organization's dedication to its values, has lead to the creation of a team that is ambitious, motivated and that strives to make a difference. An important factor influencing this workforce commitment is knowing that Swift Medical plays a crucial role in alleviating the pain and suffering of hundreds of thousands of people every month.
The company employs 125 professionals across a wide spectrum of digital health and technology fields including AI, machine learning, imaging, engineering, product development, marketing and more. The team is growing quickly. Swift Medical's ongoing commitment to its employees was recently validated when they became a certified 'Great Place to Work', as selected by the Great Place to Work® organization.
Recent Events and major news at Swift Medical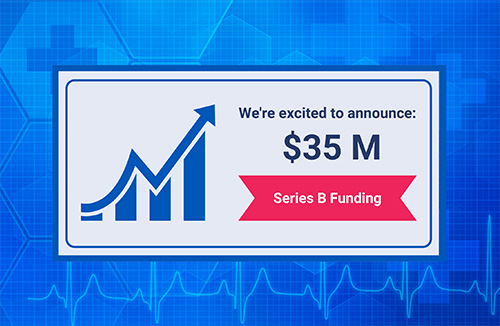 To date, Swift Medical has raised over $48.1 Million USD across various rounds and can count on a diverse and experienced group of professional funders invested in its success. As Swift Medical's market penetration and global footprint continue to grow we foresee Swift Medical accessing additional investment capital as required.
Swift Medical is poised for further growth and a bright future
Swift Medical has achieved a number of significant accomplishments since its founding. It has developed a market leading medtech solution with significant clinically validated benefits that has been adopted by thousands of healthcare facilities and is being used to treat hundreds of thousands of patients every month. It has built a top notch management team, as well as a dedicated workforce committed to executing on the mission. It has raised upwards of $48 Million USD to date, and is well capitalized as it continues to scale and execute on its goal of becoming the leading wound care management platform on the planet.
Swift Medical has already accomplished a ton and we believe that based on their track record of consistent execution, the best is yet to come for Swift and its team.
BML Technology is proud to work with Swift Medical as it continues to help alleviate the pain and suffering of chronic wound patients and medical organizations better manage their skin and wound cases and workflows. We wish them the best of success and support their progress as they solidify their position as the preferred wound care management platform worldwide.

---
About BML Technology
BML Technology understands digital health. At the intersection of medical technology, clinical research and patient-centric healthcare BML drives the mainstream adoption of digital technology in healthcare. Offering a full range of services to the digital health ecosystem BML manages the complex stakeholder interactions necessary to get digital health solutions to market and gain adoption.
Stay Connected with BML Technology.
Connect with BML Technology on LinkedIn.
Connect with Swift Medical on LinkedIn.