Medtech Canada is the national association representing Canada's innovative medical technology industry. The annual signature conference of Medtech Canada and the Canadian medtech industry will take place virtually October 5 and 6, 2021. Medtech Canada advocates for Canada's medical technology eco-system in achieving patient access to leading edge, innovative technology solutions that yield valuable outcomes.
Canada's Medtech Conference, presented by Medtech Canada, is the pre-eminent information exchange and educational forum focused on medical technology, innovation adoption and opportunities to foster transformation within the healthcare system.
Register to Canada's Medtech Conference here.
Attendees will hear from and engage with high-profile health system leaders and network with colleagues. Previous year's conference have hosted dignitaries such as Ministers of Health, Hospital CEOS and other influential through leaders.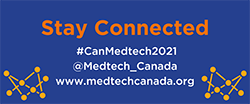 Everyday, medical technology advancements help save the lives of patients in Canada by improving the accuracy of diagnoses, enhancing treatments and cure of diseases, reducing long-term disabilities and helping to provide better medical care. Covering a wide range of products, medical device examples include pacemakers, artificial heart valves, hip implants, synthetic skin, scalpels, medical laboratory diagnostic instruments and test kits for diagnosis.
---
About BML Technology
BML Technology understands digital health. At the intersection of medical technology, clinical research and patient-centric healthcare BML drives the mainstream adoption of digital technology in healthcare. Offering a full range of services to the digital health ecosystem BML manages the complex stakeholder interactions necessary to get digital health solutions to market and gain adoption.
Stay Connected with BML Technology.
Connect with BML Technology on LinkedIn.