---
UPDATE: This Webinar took place on January 13th, 2022. A recording of the Webinar is not yet available. As soon as it becomes available we will make it accessible from this article. Thank You.
---
Join our Founder and Managing Director, Marc Saab and Martin Poulin, Director of Biomedical Engineering at Island Health and a Member of the ACCE (American College of Clinical Engineering) Education Committee as they discuss 'Connected Medical Devices and the challenges they pose' as part of the ACCE Educational Webinar Series. The Webinar will take place on January 13th at 12:00 PM Eastern Time (US and Canada).
Connected Medical Devices and the challenges they pose Webinar
Date/Time: Thursday, January 13, 2022 / 12pm EST
Speaker: Marc Saab, MEng, BML Technology
Moderator: Martin Poulin, Member, ACCE Education Committee
Register Now.
Description:
While the demand for emerging technology in healthcare applications continues to grow at an exponential rate, the supply seems to be stalled by familiar factors. The need to ensure patient safety and to show compelling clinical validation have always been imposed by regulatory agencies like Health Canada and the FDA.
When new technology is introduced into the clinical environment, and even directly into the hands of the patients at times, issues around inter-operability, usability, data integrity, cybersecurity, and data privacy arise. The amazing possibilities offered by medical wearables, artificial intelligence, and remote patient monitoring applications are exciting.
This presentation will address some of the considerations for overcoming the challenges involved, such that real-world medical applications based on these exciting new technologies can be integrated into existing clinical frameworks and used reliably.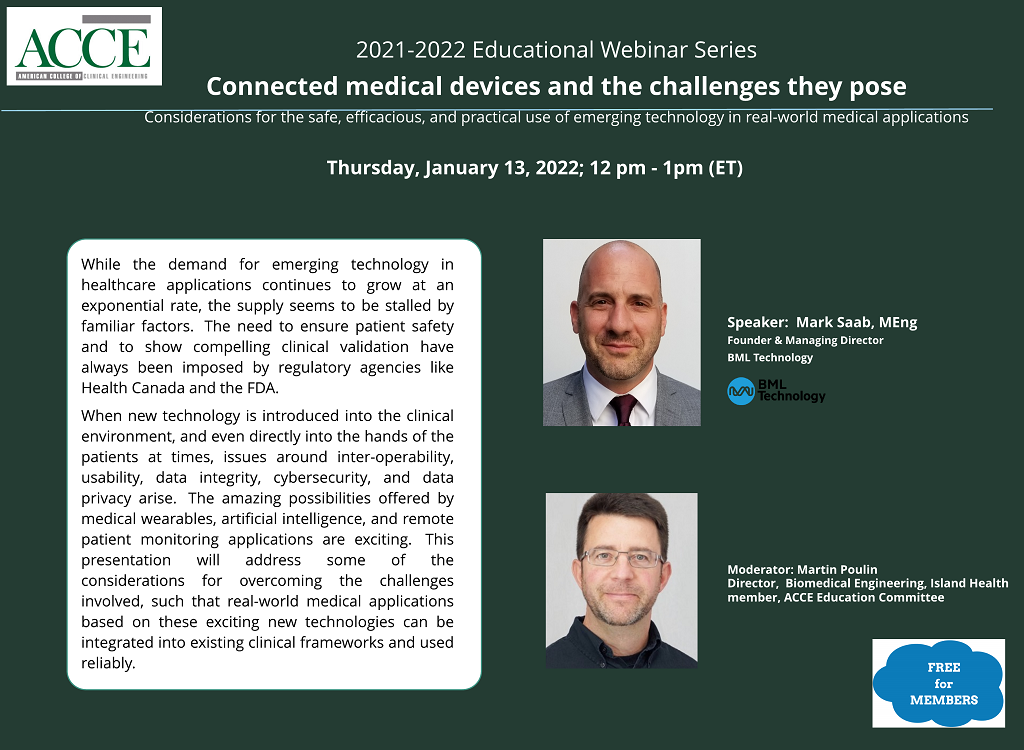 We look forward to your attendance as Marc and Martin provide some insight into the exciting challenges and opportunities presented by the emerging field of Connected Medical Devices.

---
About BML Technology
BML Technology understands digital health. At the intersection of medical technology, clinical research and patient-centric healthcare BML drives the mainstream adoption of digital technology in healthcare. Offering a full range of services to the digital health ecosystem BML manages the complex stakeholder interactions necessary to get digital health solutions to market and gain adoption.
Stay Connected with BML Technology.
Connect with BML Technology on LinkedIn.
Connect with ACCE on LinkedIn.