As recently reported in the BML Technology Blog, MEDTEQ+ is one of the leading players in the Canadian health technology ecosystem. Their comprehensive suite of program offerings designed to help startups and emerging medical technology companies accelerate innovation and scale their products and services makes them an indispensable participant in the industry, and a principal pillar of the Montreal digital health technology ecosystem.
The Medteq+ offering has recently evolved from offering financing and networking to including acceleration and coaching as part of its AIM Acceleration Innovation Coaching Program. Add to that the growing network of clinical partners via the Beachhead program, and we can see that the Medteq+ AIM startups are in good hands.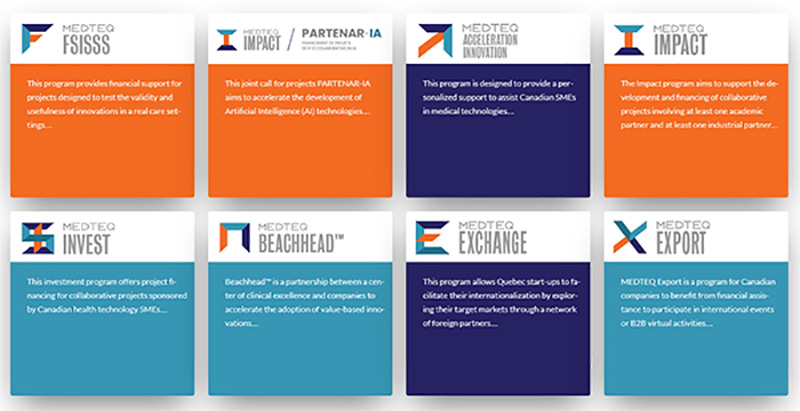 MEDTEQ+ recently held its members only MEET&TEQ meeting presenting its AIM program, as well as pitch presentations from the companies in its 2020-2021 cohort.
Thank you to the animators, Jean-Philippe Gagnon and Salim Chemanedji from Innovitech, Sylvie Lau and François Bergeron from MEDTEQ+, Steeve Asselin from National Research Council Canada and Isabelle Deschamps for presenting.
BML Technology is an interested participant in these activities as we are passionate about supporting the Quebec health tech ecosystem. Our own Managing Director, Marc Saab, has presented to this first AIM Program cohort on 'Best Practices in Medical Device Regulatory Strategy' to highlight some of the critical aspects of early regulatory strategy for medical device and digital health startups.
With a team of experienced professionals in the field, BML Technology manages the complex stakeholder interactions necessary to get digital health solutions to market and gain adoption. For startups, the runway is long and the cash burn is high; there isn't a lot of room for mistakes. Startups have to ensure their medical device regulatory strategy has them on the right track. With decades of experience and hundreds of successful client engagements BML Technology makes sure that they are.
Congratulations go out to the two featured startups Paperplane Therapeutics and MUUTAA, both breaking exciting new ground in their respective fields.
To see the complete list of medtech startups in the cohort you can view them here:
MEDTEQ+ AIM Coaching Program Startups.
It's no longer a secret that the Montreal digital health technology ecosystem is experiencing fast growth in the number of companies created, technologies developed, investment and commercialization. And BML Technology is proud to be a part of it and to make its respective contribution.
---
About BML Technology
BML Technology understands digital health. Offering a full range of services to the digital health ecosystem BML employs industry best practices in medical device regulatory strategy to ensure that your medical device is designed for compliance and to simplify certification.
Stay Connected with BML Technology.
Connect with BML Technology on LinkedIn.
Connect with MEDTEQ+ on LinkedIn.