Since the beginning of the COVID-19 pandemic in Canada, myriad efforts and strategies have been explored to slow the spread of the virus and contain the damage it causes.
The primary strategy deployed has been a series of lockdowns and restrictions on social and economic activity. The intention of these lockdowns is to 'flatten the curve' to prevent our healthcare system from becoming overwhelmed, and to allow the pharmaceutical industry to develop vaccines to immunize the population.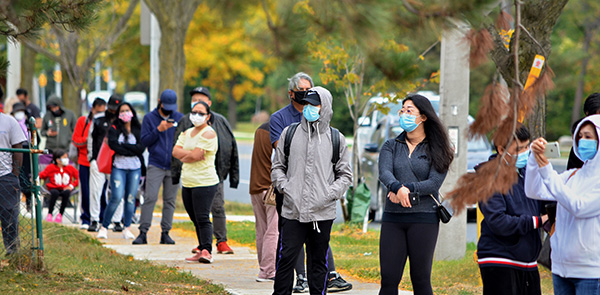 On a positive note, we now have multiple effective vaccines being distributed all over the world. Unfortunately today, 11 months into these measures, we are far from out of the woods. Canada currently sits 43rd in vaccine rollout worldwide and at the current pace only half of Canadians may be immunized by September of 2021. This will be far from the herd immunity required to allow us to reduce restrictions.
In the meantime people continue to contract the virus and the lockdowns persist. There is no easy answer, but the long term social and economic effects of this shutdown are extremely concerning. There has to be a better way of managing society while protecting the vulnerable and keeping healthcare facilities well-supported. We need to consider other strategies and new ideas, including some that have been deployed in other countries with success.
Rapid Test and Trace Canada proposes rapid testing and tracing as a primary virus containing strategy that has yet to be exploited, and believes it could be an effective strategy to combat the spread of COVID-19 and get Canada safely back to some version of a normal way of life.
Rapid Test and Trace Canada is a coalition of academics, public health professionals, and medical specialists, in partnership with businesses in the health, hospitality, and cultural sectors. It includes David Juncker, PhD, Professor and Chair of Biomedical Engineering in the Faculty of Medicine at McGill University and many other experienced professionals.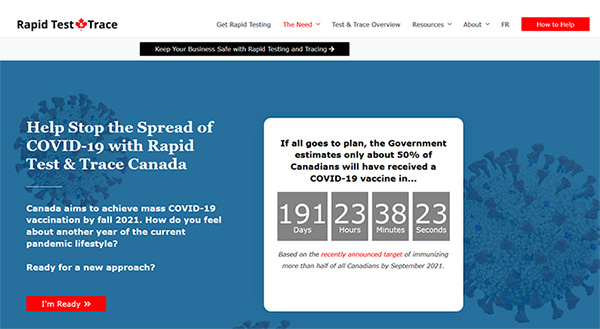 What exactly is rapid testing and tracing?
'Rapid testing involves using rapid antigen tests to test large groups of people frequently, regardless of whether or not they are showing symptoms, to identify and stop the spread of COVID-19. Contact tracing involves identifying how contagious people may have spread the virus to others via close contact, testing those people, and then isolating them if they are sick.' Rapid Test & Trace Canada
Rapid testing and tracing is quick to implement, fast and easy to conduct, and very affordable when compared to other options. Rapid tests can cost as little as $1 each and deliver results in 10-15 minutes, compared to PCR tests which can cost over $50 and take 1-5 days for results.
If used properly, rapid testing and tracing can provide a way to manage risk where it is highest, when the pre-symptomatic and likely most contagious among us are transmitting unwittingly. Once aware of their status, it is believed that these individuals can take measures sooner in the disease course and help contain the spread.
Rapid testing has been ignored since the beginning of the crisis because the performance is not as high as PCR testing, the current gold standard. Concerns that a high false positive rate may cause mass confusion in the testing and isolating strategies set forth my the Ministry of Health. At the same time, concerns that false negatives could create a false sense of security and contribute to actually worsening the spread.
We believe that integrating rapid testing into the current strategy – wearing masks and socially distancing, testing and tracking cases with gold standard PCR test, and rolling out mass vaccination – will greatly help if the tool is used knowledgeably, and in context of its limitations.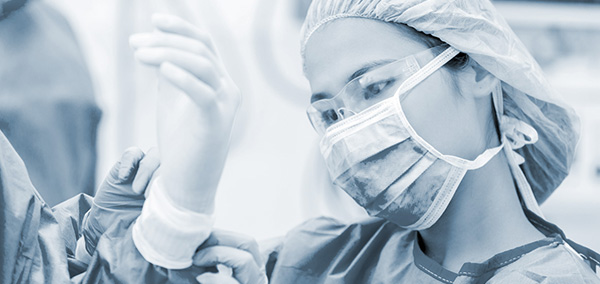 In this article Prof. David Juncker and Dr. Don Sheppard, Director of Mi4 and Professor and Chair at McGill's department of Microbiology and Immunology, explain the potential benefits of rapid, mass testing in simple terms:
We can avoid a lockdown by creating a national mass testing program
We are pleased to be hosting Sandy White, founder of Rapid Test and Trace Canada, as well as Dr. Don Sheppard, Director of the MUHC's Mi4, Prof. David Juncker, Chair of Biomedical Engineering at McGill University, and Jennifer Pender-Alves, ISED Canada, Manager Life Sciences Directorate, on special assignment with COVID-19 Made in Canada Team, in our next meeting of the COVID-19 Task Force next Friday, February 26th. The BML COVID-19 Task Force has a mission to help in the efforts against COVID-19 and is composed primarily of professionals from the Montreal health technology ecosystem. Next Friday, we will be learning and discussing how we can help drive this effort in Quebec.
Read more about how you can get involved with Rapid Test & Trace Canada
You can help Canada benefit from rapid testing: Sign the Petition
Help Spread the Word about Rapid Testing. Volunteer your services
To contribute to the COVID-19 Task Force or find out how we can help, contact:
BML Technology COVID-19 Digital Health Task Force.
Stay Connected with BML Technology.
Connect with us on LinkedIn.