Continuing with the strong growth and record pace we've observed in investments across all sectors of health care and digital health in particular, CB Insights has come out with their 'State of Health Care Report' for 2020, which states that this trend is global in nature and quite strong, with global healthcare funding hitting an all-time high of more than $80 Billion with more than 5,000 deals completed. 
The report covers key areas and trends in health care sectors including Artificial Intelligence, the exploding field of Telehealth, Medical Devices, Mental Health, Women's Health, Omics and the ever more important Cybersecurity.
Some interesting highlights include the fast growth and adoption of Artificial Intelligence (AI) in health care. Health Care now typically comprises the largest proportion of firms in listings of emerging AI technology companies with innovations including everything from AI enabled stethoscopes to at home diagnostics. View the complete report here.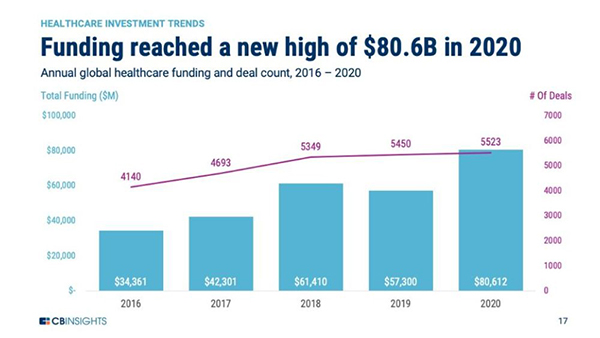 CB Insights leverages their intelligence capabilities and technology platforms to create industry intelligence reports and insights that we consider of value. View the complete report here.
BML Technology is an active participant in many sectors of the health care industry, specifically digital health and the tools, technologies and medical devices involved. BML also has advanced competencies in Medical Device Regulatory Strategy, Medical Device Design for Compliance and the Health Canada Regulatory Approval Process.
Stay Connected with BML Technology.
Connect with us on LinkedIn.