BML Technology in its role as as a participant in the digital health ecosystem at the intersection of medical technology, clinical research and patient-centric healthcare is regularly called upon by investors, medical technology firms and other stakeholders in digital health to provide evaluations and expert opinions on medical technology and its applicability in precision medicine and personalized healthcare.
Tracking Venture Capital investment flows, new technologies and emerging companies is a key aspect of this industry intelligence gathering function and we find that the reports published by Rock Health provide high quality information.
Rock Health Venture Capital Report
Rock Health is a respected Venture Capital fund dedicated to digital health. They've recently put out their Venture Capital Investment report for 2020 and there is a lot of great information there for those in this sector. In a nutshell, driven by a confluence of factors including the already strong upward trend in digital health and the COVID-19 pandemic, we are experiencing a boom period in digital health venture capital investment that doesn't look like it is slowing down anytime soon.
Although the report skews towards activity in the US, digital health is a global industry and we can expect those technologies and firms that obtain the funding to execute their business plans to seek out global markets for expansion. Digital technologies by their nature do not respect international boundaries.
2020 Market Insights Report: Chasing a new equilibrium
Introduction:
2020's stress test to our healthcare system created what felt like a fast forward button for digital health, with unprecedented growth in funding, adoption, policy making, and national attention. Venture capital dollars flowed to US digital health companies at a new all-time high, with over $14B invested across 440 deals. 2020 also represented a thematic shift in liquidity for digital health venture investors, with upswings in both IPO and M&A activity. Read the complete report here.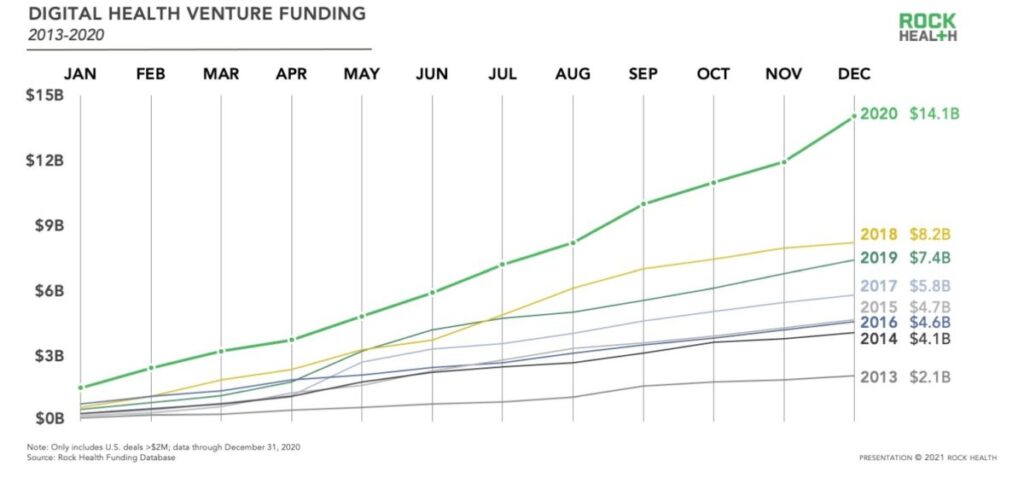 BML Technology is a very active participant in many sectors of the health care industry, specifically digital health and the tools, technologies and medical devices involved. BML also has advanced competencies in Medical Device Regulatory Strategy, Medical Device Design for Compliance and the Health Canada Regulatory Approval Process.
Stay Connected with BML Technology.
Connect with us on LinkedIn.